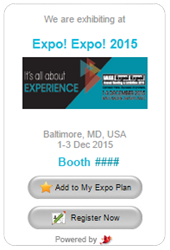 Columbia, MD (PRWEB) November 05, 2015
a2z, Inc., the Maryland-based event management software company, is pleased to announce that the International Association for Exhibitions and Events (IAEE) is offering a suite of a2z-powered solutions to exhibitors and attendees for EXPO! EXPO! 2015. The Expo! Expo! IAEE's Annual Meeting and Exhibition will be held from 1-3 December 2015 in Baltimore, MD and will bring together trade show organizers and industry suppliers for their mutual benefit through three days of exhibition, education and networking events. The focus of Expo! Expo! is to bring buyers and sellers together across the various sectors of the exhibition ecosystem and to create a learning culture and strategic networking opportunities. The a2z suite of solutions being utilized at EXPO! EXPO! 2015 includes a powerful and dynamic website, Interactive Floor Plan, ChirpE eBooth Promotion Widget, and the new online networking tool ConnectTM.
Attendees may visit myexpoexpo.com to search the online product gallery, video gallery, exhibitor press release gallery, and show specials showcased by exhibitors and then they may build a list of must-see exhibitors and products. Enhanced Exhibitor eBooths offer exhibitors an opportunity to promote their products and services through the use of engaging images and videos available in their online eBooth prior to the start of the show. The online Interactive Floor Plan makes finding exhibitors and featured products an easy task for attendees.
ConnectTM provides exhibitors access to attendees in advance of the show so that they may network and schedule in-booth meetings with attendees. The company and product information featured in an exhibitor's online eBooth offers attendees an opportunity to learn about exhibitors and their products prior to their onsite meetings, increasing the value and return from these one-on-one, face-to-face meetings.
The ChirpE eBooth promotion widget provides exhibitors of EXPO! EXPO! 2015 a website promotion tool for engaging their clients and prospects before the show starts. The widget allows exhibitors to promote their eBooth on their websites so that potential and registered attendees may have easy access to their company information, the event website, and even register for the event. Exhibitors utilizing the eBooth Promotion Widget can increase their event ROI and collect valuable pre-show leads. Exhibitors may access their complimentary widget code from their online exhibitor console.
To learn more about EXPO! EXPO! 2015, please visit http://www.myexpoexpo.com/.
About a2z
a2z, Inc. provides powerful web-based event management tools that grow your show by increasing and accelerating booth sales, helping boost revenue, and enhancing engagement and value for everyone. a2z, Inc. powers more than 850 leading events every year. Our clients benefit from increased connectivity with their audience via an improved website for their attendees and exhibitors and both web-based and native mobile app solutions. a2z offers three platforms as one integrated solution: Expo & Conference Management, Networking & Lead Management, and ChirpE Mobile- which includes our web-based and native mobile apps for smart phone and tablet device.
About IAEE
Trusted since 1928, IAEE provides quality and value to its members through leadership, service, education and strong relationships. IAEE is the largest association of the exhibitions and events industry in the world, with a membership of more than 1,300 show organizers, exhibitors and exhibition supplier companies and over 9,000 individual members in 51 countries. Organizers of more than 20,000 exhibitions and buyer-seller events around the world are members of IAEE, and the organization advocates and promotes the awareness of face-to-face exhibitions and events as the primary medium for business development and growth.
http://www.iaee.com