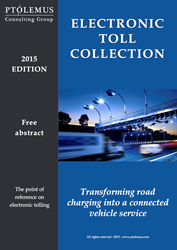 "We will see the toll market double in the next 10 years"
London, UK (PRWEB) November 04, 2015
Surveying the global market, the study reveals that India, China, Malaysia, Indonesia, South Africa and the United States are all investigating new electronic tolling solutions as a means to improve their road networks. All South American countries have either implemented or are actively exploring road tolling. This follows a rush of 14 new nationwide road charging programmes introduced since 2013.
In an interview included in the report, Martin Stone, general manager, Egis Projects USA, argues that, "We will see the toll market double in the next 10 years."
The number of Chinese electronic tolling subscribers alone will grow from fewer than 5 million today, to more than 75 million by 2025. In the same period, the market will grow to include more than 400 million active subscriptions. Much sooner, the United States will overtake Japan to become the largest single market for electronic toll collection, with over 77 million subscribers by 2018.
The study finds that HGV tolling will become ubiquitous in Europe, encouraged by the growing proportion of cross-border traffic. Countries such as Austria, Denmark, France, Germany, Italy, Poland, Spain and Switzerland face an average of 44 per cent foreign HGV traffic on their roads. In Germany, nationwide HGV toll operator Toll Collect, provides over €18 million per day to the federal treasury. In countries without a road charging scheme, foreign registered vehicles make no direct contribution towards the road network. Across Europe, 23 of the 28 EU member states now have some form of road charging in place.
While the report recognises that road charging schemes can be politically sensitive and difficult to implement, a lack of clarity and invention continue to handicap new projects. The report details how value added services such as usage based insurance, cross-mobility payments and parking access can improve public acceptance, but are too often overlooked. Italian service provider Telepass has demonstrated the success value added services can bring. More than 8 million customers have now voluntarily signed up to the scheme.
For further information on the study please visit the PTOLEMUS website.