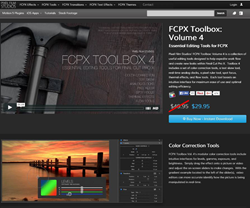 Create awesome perspective without knowledge of cameras with FCPX Toolbox: Volume 4's text tool.
Aliso Viejo, CA (PRWEB) November 08, 2015
Pixel Film Studios FCPX Toolbox: Volume 4 is a collection of useful editing tools designed to help expedite work flow and create new looks within Final Cut Pro X. Toolbox 4 includes a set of color correction tools, a text skew tool, real-time analog clocks, a pixel ruler tool, spot focus, thermal effects, and flow tools. Each tool boasts an intuitive interface for maximum ease of use and optimal editing efficiency.
FCPX Toolbox Vol. 4's modular color correction tools include intuitive interfaces for levels, gamma, exposure, and brightness. Simply drag the effect onto a picture or video and adjust the on-screen sliders to make changes. With the gradient example located to the left of the slider(s), video editors can more accurate identify how the picture is being manipulated in real-time.
FCPX Toolbox's text skew tool allows users to create dynamic and angular text with just the drag of a mouse. Utilize the four corner on-screen controls pucks to skew perspective. Next, use the center on-screen control to position, scale, and rotate text with absolute ease.
The pixel ruler tool allows users to easily measure the distance between two points on screen. Simply use the on-screen controls to match the position, angle, and distance of the space being measured. Pixel ruler is compatible with resolutions: WVGA 480p, EDTV 480p, PAL 576i, HD 720p, HD 1080p, DCI 2K, WQHD 1440p, UHD 4K, and DCI 4K.
The Spot Focus tool is a self-animating effect that highlights an area on pictures or videos. To use Spot Focus, position and scale the on-screen control to determine the placement and radius of the highlighted area. Find additional stylization options including blur, color, and opacity in the inspector window. This functionally designed tool allows Final Cut Pro X users to stretch the title layer without distorting the animation.
Flow Tools is an incredibly versatile set of self-animating generators that create the effect of flowing pictures and/or videos. Utilize flow tools to create a background for text, a professional presentation, or even a slideshow for personal use. Flow tools include up to 8 drop zones per preset and animate in four different directions. Advanced users can make use camera manipulation to create more dynamic looks.
FCPX Toolbox: Volume 4's thermal effect instantly remaps the colors of pictures and videos to take on thermal dynamics. With the same intuitive on-screen interface as the color correction tools,FCPX users instantly utilize the threshold and smoothness sliders to create different thermal looks.
"Final Cut Pro X is lacking some essential plugins. We intend to satisfy the needs of fans of FCPX around the world and get them what they need." Said Christina Austin, CEO of Pixel Film Studios.
Established in 2006, Aliso Viejo, California-based Pixel Film Studios is an innovative developer of visual effects tools for the post-production and broadcast community. Their products are integrated with popular non-linear editing and compositing products from Apple FCPX. Apple, the Apple logo, Mac OS X, and Macintosh are registered trademarks of Apple Inc. in the U.S. and/or other countries. All other trademarks and trade names are the property of their respective owners.