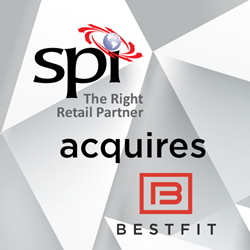 SPI continues down the path to become the one stop shop for all things technology for Omni-Channel and digital commerce.
Atlanta, GA (PRWEB) November 04, 2015
Software Paradigms International Group, LLC (SPI) announced the completion of its acquisition of BestFit Mobile™, a leading mobile strategy and implementation firm and the developer of enterprise ready iBeacon based customer engagement products.
This acquisition will help retailers utilize iBeacon technology to increase in-store engagement and gain actionable insights. BestFit Mobile's best-of-breed iBeacon mobile proximity solutions combined with SPI's depth and breadth of retail technology experience spanning over 20 years provides innovation and reliability for retailers large and small.
"BestFit Mobile's customer engagement solutions empower retailers to deliver personalized and contextually relevant content in-store based on iBeacon technology. With our product suite and associated services, SPI continues down the path to become the one stop shop for all things technology for Omni-Channel and digital commerce. BestFit Mobile and their ProxDK and Engagement Cloud are an important part of that answer." — Sid Mookerji, SPI Global CEO
"We've differentiated ourselves by using proximity as the basis for both shopper and employee facing tools. Our in-store engagement solutions, which are used by innovative retailers such as GameStop and Neiman Marcus, fit well with SPI's product suite," said Bret Cunningham, BestFit Mobile President & CEO. "We're thrilled to join a company with a proven 20-year track record of serving retailers worldwide, helping to expand their scope and scale with mobile products and services."
About BestFit Mobile
Founded in 2009 and headquartered in Austin, Texas, BestFit Mobile is a mobile strategy, design, and implementation firm and widely-recognized leader in Bluetooth Smart based solutions. It's ProxDK™ is an iBeacon licensed proximity development platform for building micro-location enabled solutions. The platform enables seamless engagement based on a user's proximity to beacons, providing value before, during, and after a transaction by delivering actionable insights from customer, employee, manager, and operational touchpoints. http://www.bestfitmobile.com
About SPI
Software Paradigms International Group, LLC (SPI), founded in 1994, is an award winning products and service provider for retailers around the world. SPI is headquartered in Atlanta, GA, with offices in Australia, Brazil, Canada, & Singapore, and development centers in India, and Nepal.
SPI offers complete Retail IT solutions including custom application development, integration, maintenance, and analytics products. SPI's technology and back office solutions leverage innovative approaches to improve profitability and productivity for their retail clients. http://www.spi.com
BestFit Mobile, ProxDK, It's a Mobile Planet, and their respective logos, are trademarks of SPI. All other company and product names mentioned are used for identification purposes only and are the property of their respective owners.
PR / Media Inquiries:
Caroline Dunn
Caroline(dot)Dunn(at)spi(dot)com
678-714-7933