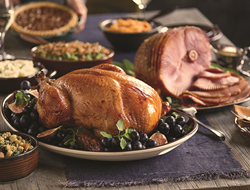 Our new holiday meal packages include everything you need to cook a wonderful dinner for the whole family without spending hours in the kitchen.
Omaha, Neb. (PRWEB) November 04, 2015
Omaha Steaks®, the nation's leading purveyor of exceptional grain-fed beef and gourmet foods, announced today the addition of complete holiday meals to their 2015 Thanksgiving and Christmas offering.
These new packages come in response to consumer demand to spend less time in the kitchen and more time with their families during the holiday season. According to a recent nationwide survey conducted by Omaha Steaks, a majority of people (55.99 percent) spend between 2-6 hours getting ready for their Thanksgiving meal, while another 29 percent spend more than 6 hours.
"Our new holiday meal packages include everything you need to cook a wonderful dinner for the whole family without spending hours in the kitchen," said Senior Vice President and Family Owner Todd Simon. "They are ready to cook, saving you prep time and leaving more time for family togetherness which is what the holidays are all about."
The new meals include classic Omaha Steaks holiday favorites, as well as new products introduced to create a convenient, complete meal for your entire gathering. Each package is shipped directly to your door, on the delivery date you choose, and includes a centerpiece main dish, side dishes and dessert. There are a variety of packages to choose from to accommodate any size gathering with different main dishes, sides and desserts, or you can choose to customize your own holiday meal by ordering items individually.
"We've always offered traditional holiday items including a Whole Basted Turkey and Spiral Sliced Ham but this year we've expanded our holiday menu to include a Pork Crown Roast, Turkey Roulade with Apple Cranberry Stuffing, new gourmet side dishes, pies and even peppermint ice cream."
As a fifth generation family owned company, Omaha Steaks has long been the "go-to" for holiday gifts and convenience of holiday meals. The variety of gift packages available, the direct delivery and the ease of shopping by phone, online, or in one of 75 Omaha Steaks stores nationwide, make the company a solid choice and one-stop shop for the holidays.
Omaha Steaks is now accepting pre-orders for Thanksgiving. To select your delivery date, or for more information about Omaha Steaks holiday meal packages visit http://www.OmahaSteaks.com.
About Omaha Steaks
Omaha Steaks, founded in 1917, is an Omaha, Nebraska-based, fifth-generation, family-owned company that markets and distributes a wide variety of the finest quality USDA-approved, grain fed beef and other gourmet foods including seafood, pork, poultry, side dishes, appetizers, complete meals and desserts. Today, Omaha Steaks is recognized as the nation's largest direct response marketer of premium beef and gourmet foods, available to customers by calling 1-800-228-9055, online at http://www.OmahaSteaks.com or at retail stores nationwide.