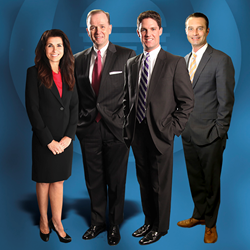 Kingston, PA (PRWEB) November 06, 2015
O'Donnell Law Offices, a leading Northeastern Pennsylvania law firm, celebrates being selected by their clients and peers for national Tier recognition in the 2016 Edition of the U.S. News and World Report and Best Lawyers list of "Best Law Firms." O'Donnell Law is ranked in Tier 2 in the practice area of Personal Injury Litigation---Plaintiffs.
According to the U.S. News and World Report and Best Lawyers, the 2016 Best Law Firm rankings are based on a rigorous evaluation process that includes the collection of client and lawyer evaluations, peer review from leading attorneys in their field and review of additional information provided by law firms as part of the formal submission process. These evaluations and surveys incorporates more than 5 million evaluations of almost 52,000 leading lawyers.
O'Donnell Law Offices has been included in the U.S. News-Best Lawyers "Best Law Firms" list in 2014, 2015 and 2016. The 2016 rankings are based on the highest number of participating firms and highest number of ballots on record.
"We are pleased and honored to have been recognized by U.S. News and World Report and Best Lawyers," said Attorney Neil T. O'Donnell of O'Donnell Law Offices. "Receiving a tier designation reflects the high level of respect we have earned among leading clients and lawyers in our geographic area."
About O'Donnell Law Offices
O'Donnell Law Offices is a Northeastern Pennsylvania personal injury law firm which has successfully represented all types of personal injury claims, ranging from auto and trucking accidents to product liability claims, to medical malpractice and wrongful death claims. The firm is located in Kingston, Pennsylvania, and its superb team of attorneys provides top quality legal representation and unparalleled service to its clients and the community. O'Donnell Law has been representing clients for more than two decades, and in that time has received numerous awards and recognitions. Visit http://www.odonnell-law.com or call 570.821.5717 for more information on the firm.
###