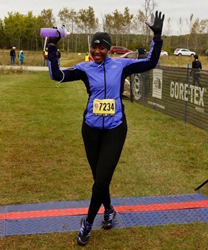 I think a clear rationale for using compression socks lies in their potential to reduce the overall energy cost associated with exercise.
Rockford, MI (PRWEB) November 04, 2015
ACEL proudly announces an ongoing partnership with Dr. Nina Cherie Franklin, best known as Nina Cherie, PhD. Dr. Franklin is an avid exercise physiologist, research scientist and health advocate with more than 15 years of experience and expertise. As a compression socks company focused on bringing new apparel solutions in the areas of sports, recreation, health, and occupational markets, it was extremely important to ACEL to take a scientific approach in product development beyond its own experts on staff.
"Dr. Franklin can provide a perspective and feedback from a scientific standpoint that is unbiased and true to her insights formulated from many years of experience," says Cathy Sovde, Director of Marketing Communications with ACEL. "She's accomplished so much throughout many different areas of study within health, exercise and fitness, which allows Dr. Nina to bring a perspective to the table that pushes our team to think outside of the box."
Dr. Franklin holds a BS in Kinesiology, a MS in Movement Science/Exercise Physiology, and a PhD in Kinesiology, Nutrition and Rehabilitation. Additionally she is certified and licensed Clinical Massage Therapist and an ACSM Certified Exercise Physiologist. Dr. Franklin is the author of "Leaving Your Fat Behind," which is a woman's guide to weight loss and long-term weight management and also maintains an active blog entitled "You, Your Body and Your Health."
Recently Dr. Franklin took part in a short Q&A with ACEL after testing the all season compression socks for the past few months.
Q.: As a Doctor in exercise science, what role do you see for compression socks in an exercise routine or in use with sports?
"In relation to sports and other forms of physical exercise, I think a clear rationale for using compression socks lies in their potential to reduce the overall energy cost associated with exercise. When worn below the knee and tight around the calves, compression socks have been demonstrated to improve the rate at which blood flows from the lower limbs back to the heart. With continued use…"
To read the rest of Dr. Franklin's answer to this question and her short interview, you can visit her website and blog. To learn more about ACEL and their compression socks, you can visit them at http://www.acelcomfort.com. We encourage you to follow both Dr. Franklin and ACEL on social media as they continue to test ACEL's products, ensuring they stay on the cutting edge of providing real solutions that help their fan's everyday challenges as they relate to sports, recreation, health, and occupational needs in apparel.
###
ABOUT ACEL
ACEL high-performance MEDI-COMPRESSION activity socks are specifically designed for performance during and recovering after periods of intense activity. Although ACEL was developed as an activity sock, many have found the all-around comfort and support these socks provide also helps to support circulation and restore tired legs during prolonged periods of sitting or standing.
PRESS CONTACT
Cathy Sovde, Director of Marketing Communications
803-764-0983
csovde(at)acelcomfort.com
http://www.ACELComfort.com