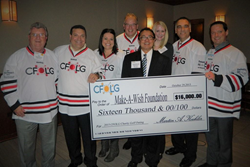 Lisle, IL (PRWEB) November 03, 2015
The CFO Leadership Group (CFOLG), a private group dedicated to the advancement and professional development of Chief Financial Officers, has announced a donation of $16,000 to Make A Wish Illinois at the CFOLG's third quarter networking event held on Thursday, October 29, 2015.
The CFOLG Leadership Committee presented the donation of $16,000 to Ashley White, Gift Officer at Make A Wish Illinois. The gift is the result of the 3rd Annual CFOLG charity golf outing held on September 17, 2015 at The Bridges of Poplar Creek Hoffman Estates, IL.
"We are happy to give back and make a major contribution to Make A Wish Illinois and be able to impact families battling life threatening illnesses," said John Liacone, Managing Partner of The Overture Group and CFOLG Founder. "The CFO Leadership Group appreciates the opportunity to support organizations like Make A Wish Illinois who work tirelessly to provided life-changing experiences."
About The CFO Leadership Group Chicago
Established in 2009, the CFO Leadership Group (CFOLG) is a networking organization that brings an elite group of financial executives together to provide information, education, resources, career development and support of its members.
About The Overture Group
The Overture Group is a premier Midwest professional/executive search and placement firm headquartered in Lisle, IL with an additional office in Cedar Rapids, IA. With its genesis in the fields of accounting and business consulting, The Overture Group primarily serves middle market organizations in the fields of finance, accounting, human resources, health care, operations and technology. The company is a member of the American Institute of CPA's (AICPA), Financial Executives International (FEI), Illinois Manufacturers Association (IMA), Society of Human Resources Management (SHRM), The Private Director's Association (PDA), The National Association of Corporate Directors (NACD), Vistage, and CFO Leadership Group (CFOLG).