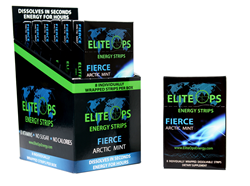 ...the convenience and portability of the product is a definite benefit...
Delray Beach, Florida (PRWEB) November 05, 2015
Delray Beach based NexGen Brands, the owner of EliteOps Energy Strips, an innovative energy and focus supplement that dissolves on your tongue, requiring no liquid consumption whatsoever, and, BattleFrog Obstacle Race Series, North Americas' leading obstacle race series with 44 events in 33 cities, announces a sponsorship deal for the remainder of the 2015 season.
"We are excited about the opportunity to partner with an event like BattleFrog," stated NexGen Brands CEO, Ray Welch. This partnership allows us to reach a core demographic – the Athlete / Exercise enthusiast. We have had some early success reaching athletes, especially within the obstacle course race community, and this partnership will help build upon those successes."
Unlike energy "shots" or drinks, EliteOps Energy Strips don't require carrying bulky, heavy bottles of liquid. The individually wrapped strips are virtually weightless and take up no space, making them ideal for athletes of all types. "The weight/space benefit is huge," said Welch, "but an even bigger benefit for athletes competing in any type of endurance event is the fact that you don't need to consume any liquid. We provide the boost of energy and focus without the potential need for a bathroom break."
Chris Bates, the Director of Sponsorship for BattleFrog Race Series, added, "the convenience and portability of the product is a definite benefit for our athletes. Our courses are difficult enough, you don't want to carry any extra weight to slow you down."
EliteOps Energy Strips recently returned from the National Association of Convenience Stores (NACS) trade show in Las Vegas where they announced their national launch campaign. "We have been in a soft launch since June, testing our marketing and advertising strategies within our home community of South Florida" stated Welch. "The BattleFrog sponsorship is a nice way to kick off our launch because it gives us strong consumer penetration in our existing market area. We hope to build on the success we've had in South Florida as we expand regionally across the country."
BattleFrog has two remaining races for the 2015 season - the Miami Race, on November 21st, and, the season championship race in Orlando on December 12th. For more information on upcoming races, or to register for a race, visit the BattleFrog Race website at http://www.battlefrogseries.com
About EliteOps Energy Strips
EliteOps Energy Strips are the latest innovation in the energy supplement category. Each individually wrapped strip delivers 100mg of caffeine and 100% of the recommended daily allowance of B-Vitamins by dissolving on the tongue in seconds. There is no sugar, no calories, and no crash. EliteOps Energy Strips are currently available in on flavor, Fierce Arctic Mint. A second flavor is planned for release later this year. For more information, visit their website at http://www.EliteOpsEnergy.com or follow @EliteOpsEnergy on Twitter.
About BattleFrog
The BattleFrog Obstacle Race Series is one of the nation's fastest growing outdoor fitness events. Expertly designed by Navy SEALs and SeaBees, BattleFrog is heralded as one of the top OCR companies by industry publications and is widely considered the most challenging Elite Points Series events in OCR. Each BattleFrog features an 8KM course and at least twenty-five obstacles expertly placed into unique terrain to be challenging, fun and mentally engaging. BattleFrog features an exciting American-themed race festival with music, food, entertainment, fitness vendors and plenty of viewing areas to catch all the action. Every obstacle is completable as BattleFrog is designed to bring together participants of all skill and experience levels. For more information please visit their website at http://www.BattleFrogSeries.com or follow them @BattleFrogSeries on instagram.