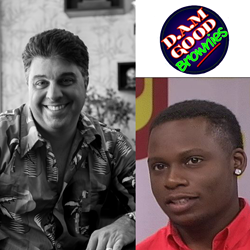 Today, I'm pleased with the progress he has made so far, not only in transforming his passion for making brownies into a business but also the rate at which he has expanded.
(PRWEB) November 05, 2015
Executive Chairman of Cool Group of companies, Joe Issa, says in an interview, that he is pleased with the rate of expansion of his mentee, Dominic McDowell's business, DAM Good Brownies, since mentoring him at the Branson Centre for Entrepreneurship – Caribbean in 2013 and urges him to continue to strive for sustained growth of the business.
Issa was reacting to an article in the North Coast Times titled "Joe Issa Helps Build Sustained Brand for Others" accessed on October 30, 2015 at
http://www.northcoasttimesja.com/?p=3339, in which he was cited as having helped his Mentee, Dominic McDowell built his brand of chocolate-based brownies, as a result of which, he has been able to expand the business and receive greater brand recognition.
"I remember when Dominic came to the Branson Centre in 2013 and was assigned to me as his mentor. He was a bright young man just graduated from UTech (University of Technology) and was full of enthusiasm for his chocolate-based brownies, which he was producing at home and wanted to transform into a business.
"Today, I'm pleased with the progress he has made so far, not only in transforming his passion for making brownies into a business but also the rate at which he has expanded. I am urging him to continue in this vein and don't expand too much, too quickly," says Issa, who has 20 years experience in brand building, having built the Cool brand of over 50 companies, which are being leveraged internationally.
Information obtained from DAM Good Brownies' Facebook page at https://www.facebook.com/DAMGoodEnterprises/info/?tab=page_info, shows that McDowell's home-made chocolate-based brownies which he started producing in 2011 from his home, had achieved measured growth in the past year.
According to the Facebook page, DAM Good Brownies is Jamaica's only manufacturer of flavored, prepackaged, branded chocolate-based brownies, having started in 2011 with just two flavours.
It says that the products are packaged individually for retail purposes but makes special presentations for a variety of events. Its 16 flavours of chocolate-based brownies include Black Forest, Mocha, Coco Loco, White Mint Chocolate Chip, Marshmallow, M&M, Cookies N Cream, Caramel Twist and Nature's Best Vegan.
In addition, it informs that the products are available at a number of outlets, including Fontana Pharmacy, Chesterville Rx (Winchester Business Centre), Seymour Park Rx, Truly Fruitrageous (UTech Students Union), Campion College Cafeteria, New Kingston Rx, Kingston Dub Club, and http://www.ClickMarketOnline.com, a company owned by Issa.
In a telephone interview with McDowell following the release of the North Coast Times article, he confirms that "up to today, I have stuck to my business model which Joe Issa supported then, I have my factory, which is not located on a busy main street and have established contacts with several outlets of my choosing to sell my products, and they are not owned by me. I have also been able to produce more flavours, some of which were suggested by customers and they are all selling very well."
He assures, "I'm growing the business but not at a rate that I cannot manage; I try to tread carefully and do everything on its merit, such as marketing and promotion, which I have found to be critical for increasing sales; so I think I'm putting into practice all those things I learnt from the Centre and Joe Issa, and they are working very well for the business."
McDowell, who is now 28 years old also confirms that "the establishment of the website,
(http://www.facebook.com/D.A.M.GoodEnterprises) and employment of Brand Ambassadors are great vehicles for promoting the products…they are some of the best moves that have helped to create brand awareness and increase sales."
From as early as 2014, a year after graduating from the Branson Centre, McDowell had begun experiencing some success, which he shared in an October 1, 2014 article in PRWeb titled, "Branson Centre of Entrepreneurship, Joe Issa Mentorship Spur Growth of Business in 2014 – Dominic McDowell", at http://www.prweb.com/releases/2014/08/prweb12093646.htm.
He said then, that he had moved from doing everything himself, to employing two workers and was producing 500 units per week, but after he began interacting with his mentor Joe Issa, "I realised that more can be achieved. He encouraged me to expand and very quickly I moved to 600 units per week." Upon further consultation with Issa, he said he expanded to 1,000 units per week and within two weeks he would be producing 1,600 units per week.
However, a year later, he tells the North Coast Times that he is doing over 1,000 units a week, as he tries to keep the exact figure close to his chest, a custom which is practiced my many small businessmen in Jamaica, in order to keep prospective competitors away.
Commenting on the figures in the North Coast Times, Issa says, "In any case, they suggest that he is still in the range of 1,000 -2,000 units per week, which is where he was a year ago, and if indeed, he has expanded in 2015, it couldn't be by much…this is modest growth and that's good," adding, "What also pleases me is that when I looked at his Facebook page, I noticed he has received many Likes for his colourful ads, and is heavily into promoting the products at several events."
Issa says he is also pleased that McDowell has not veered from his original business model of not owning the outlets that sell his products; and has restricted the model to production and distribution only. He has also not located his factory on expensive and busy main street sites. In last year's PRWeb article, McDowell had indicated that Issa was very supportive of his business model, which incorporates all of these features.