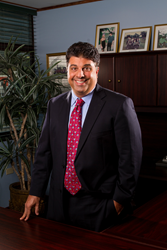 I just think there is too much to fix in Jamaica's court system to have to take on more…let's first fix it and get it to run properly before we can start looking at the CCJ as our final court of appeal
(PRWEB) November 11, 2015
As Jamaica's Upper House of Parliament debates the acceptance of the controversial Caribbean Court of Justice (CCJ) as the country's final court of appeal, replacing the British Privy Council, Executive Chairman of Cool Group, Joe Issa, in an interview, is urging the authorities to suspend the debate and instead, concentrate their efforts on fixing the local court system before arguing the pros and cons of the CCJ.
Issa, in an interview was reacting to an October 28, 2015 article in the North Coast Times titled, "Joe Issa Backs Rastas on First Fixing Court System before Debating Pros and Cons of CCJ", at http://www.northcoasttimesja.com/?p=3328, in which he stood by the Rastafari Millennium Council (RMC) in their position on the CCJ, on the grounds that the local court, which leaves much to be desired, in terms of its efficacy must first be fixed before any considerations for the CCJ.
"I just thought that the RMC should be supported in their suggestion that there is much to be fixed in the justice system and that this should be a priority as the needs are great and immediate. There is a huge backlog of criminal cases and the conviction rate is abysmally low, making it seems that justice is lacking for the victims and their families.
"And even when justice is passed, he argues that for many it is justice denied because of the no-jury-trial policy of the Gun Court. There is also concern about the MO (modus operandi) of the security forces, which makes citizens reluctant in coming forward to give evidence for fear that the criminals will find out and come after them. This reflects the mistrust that exists between the police and the citizens they are to protect," says Issa in the interview.
Agreeing that there is enough wrong that needs to be fixed in the lower court system before entertaining the idea of replacing the Privy Council with the CCJ, Issa says the authorities have waited 10 years for this debate…they can wait a little longer, just as soon as the lower court system starts to function properly," Issa argues.
Issa's concerns are echoed in Paul Andrew Bourne's September 28, 2013 article In Slide Share titled "Criminal Justice System in Jamaica", accessed on November 9, 2015 at http://www.slideshare.net/paulbourne01/criminal-justice-system-26655598, which said that "using Jamaica as a pervasive example, one of the main features of the Jamaican crime scene is violence and as such the Jamaican criminal justice system, especially the arm that consists of police officers, respond with equal amounts or even more violence."
It explains that "as a means of dealing with the constantly rising crime problem, the Jamaican criminal justice system employs the concept of fight fire with fire. As a result criminal justice in Jamaica is immensely flawed. If justice means the fair, moral and impartial treatment of all under the law then it is safe to say that the Jamaican criminal justice system lacks the most important component, that of justice."
The United States government has also criticized Jamaica's justice system in a March 13, 2013 Edmund Campbell article in the Jamaica Gleaner titled, "Jamaica's justice system under US criticism" accessed on November 13, 2015 at jamaica-gleaner.com/gleaner/20130313/news/news5.html, which said that "Jamaica's ailing justice system came in for sharp criticism from the US Department of State in its 2013 International Narcotics Control Country Strategy Report (INCSR), which has been submitted to the US Congress for review."
It said that Jamaica's "criminal justice system is overburdened, underfunded and sluggish" and that "progress had been made in combating narcotics, trafficking and corruption, but this effort has been hobbled by a justice system with limited effectiveness in obtaining criminal convictions."
According to the article, "the Government and law-enforcement authorities were committed to combating narcotics and trafficking. However, despite competent leadership and political will, their efforts were only moderately effective in 2012 because of a lack of sufficient resources, corruption, and an inefficient criminal justice system."
The report put the conviction rate for murder in Jamaica at five per cent, adding that "a culture of trial postponements and delay could be contributory factors to the low out-turn. This lack of efficacy contributes to impunity for many of the worst criminal offenders and gangs, an abnormally high rate of violent crimes, lack of cooperation by witnesses and jurors, frustration among police officers and the public, a significant social cost and drain on the economy, and a disincentive for international investment."
And according to Wikipedia's "Gun Court" accessed on November 9, 2015 at https://en.wikipedia.org/wiki/Gun_Court, "The Gun Court has faced criticism on several fronts, most notably for its departure from traditional practices, for its large backlog of cases, and for the continuing escalation in gun violence since its institution." Regarding the lack of jury trial it concluded that "the Constitution had been shorn of its most potent and ancient safeguard, trial by jury."
So while there may be more reasons for not supporting the CCJ at this time, Issa's concerns are the ineffectiveness and inefficiency of the lower court system which needs to be fixed first. Like the RMC, he is not questioning the integrity of Jamaican and Caribbean judges nor is he afraid that politics will creep into the CCJ.
"I just think there is too much to fix in Jamaica's justice system to have to take on more…let's first fix it and get it working properly before we can start looking at the CCJ as our final court of appeal," Issa stressed.