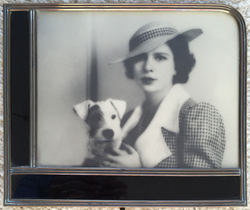 Beverly Hills, California (PRWEB) November 04, 2015
Kaminski Auctions of Beverly Hillls, California and Beverly, Massachusetts is pleased to present an outstanding collection of art, silver, porcelain and furniture descended through the family of Emily Hall Tremaine in their Thanksgiving sale on November 28th and 29th, 2015.
An American heiress, Emily Hall Tremaine grew up in the Jazz Age of the 1920s and embodied the Montecito lifestyle of glamour, wealth and privilege. Her mother, daughter of a a wealthy industrialist from the East bought "Glen Oaks" as their family home in Santa Barbara where Emily and her sister Jane grew up.
In her early years she is remembered as a dazzling Santa Barbara socialite living a daring and racy lifestyle. Married three times, her first marriage was to the handsome Baron Maximilian Hugo Converse Wilhelm von Romberg whom she first met with her sister, as children on the Grand Tour traveling in Egypt.
The handsome Max was the 19th von Romberg to hold the title, and like Emily, enjoyed a wild and extravagant lifestyle. A true adventurer, the young Baron enjoyed fast polo ponies, fast cars, and travel to far-flung destinations for big game hunts. The couple piloted their own planes and the thrill seeking young Baron had many near death experiences, which wore on their marital happiness.
Far from a vapid, brainless heiress, Emily was extremely well read and well versed on many subjects. For many years she published a society magazine titled "Apéritf", which was a combination of art reviews, gossip, poetry, and fiction. Her passions later in life involved architecture and fine art.
It was with her third husband Burton G. Tremaine, whom she married in 1945, that she became one the foremost collectors of contemporary art in the country. She credits Burton with "the real adventurous tastes," that led them to embrace the Pop Art movement and began their foray into collecting contemporary art. Her personal collection at the time of her death was said to rival that of the Museum of Modern Art.
In 1988, Christie's sold 32 of their major contemporary works for $25.8 million dollars, an auction record at the time for a single owner collection. In 1991, fifty more works from the Burton G. and Emily Hall Tremaine collection of 20th century art were sold at Christie's in New York City. Perhaps their most memorable work sold was an early painting by Jasper Johns titled "Three Flags". In 1980, the Whitney Museum of American Art purchased it for a record $1,000,000.00 million dollars, thought at the time to be a record for the highest amount paid, for the work of a living artist.
Kaminski Auctions brings to the podium an amazing array of pieces that has descended through the family. The collection features over 200 items of important art, exquisite furniture, as well as signed lithographs and original pieces from American painters Ellsworth Kelly, Robert Rauschenberg, Frank Stella, Joseph Albers, British artist Bridget Riley, and other well-known modern artists like Jean Arp, Victor Vasarely, Ernest Trova, and Columbian artist Omar Rayo. There is also an Al Hansen (1927-1995) Small Hershey collage circa 1960.
Family porcelain includes such famous names as Ginori, Lalique, Kosta Boda, Rosenthal, and Royal Copenhagen as well as English Spode, Minton, Crown Sutherland, and Davenport. There is also an outstanding collection of Rose Medallion including a 19th century Chinese Rose Medallion well and tree platter, once exhibited in the Metropolitan Museum of Art in New York City.
Irish and English hallmarked silver and Sheffield including an important Irish silver covered soup tureen, with gadroon edge, open handles and engraved crest. This exquisite piece was made by Richard Williams and hallmarked, 1777 Dublin, Ireland. A selection of family 18th century American furniture rounds out this outstanding collection. Preview this exciting auction online starting November 14th at http://www.kaminskiauctions.com and sign up to bid with KaminskiLIVE. For more information call 978-927-2223.