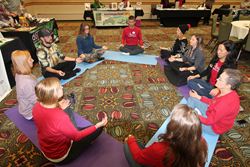 "I look forward to the Wellness Fair every year and enjoy visiting the vendors, but most importantly, I love that BGV gives us the opportunity to get a full blood screening at work," said Jenna Duncan, Marketing Operations Manager for BGV.
Breckenridge, CO (PRWEB) November 04, 2015
In an ongoing effort to promote employee well-being, Breckenridge Grand Vacations(BGV) held its Fourth Annual Wellness Fair at the Beaver Run Resort and Conference Center on Wednesday, October 28th.
This event offers all BGV personnel access to comprehensive health screenings, complete blood work evaluations, health risk assessments, flu shots and resources from over a dozen health-related local vendors at no charge. Families of staff are also able to take advantage of these services at significantly discounted rates. BGV sponsors this event in hopes that employees will maintain healthy lifestyles and will be better equipped to advocate for their healthcare. The education provided by vendors paired with the results of the screenings serve as tools to help identify, prevent and treat potential health risks in a proactive manner.
This year, the fair yielded a total of 296 attendees, 282 of which took advantage of a complete blood screening and 158 of which received a flu shot. This event was made possible by the BGV Wellness Committee, 14 volunteers, Beaver Run Resort, and 16 vendors. All expenses from the Wellness Fair were paid by the BGV Owners/Developers in order to make all services costless to employees.
Vendor booths present at the Wellness Fair included: BGV Sustainability, Blue Lotus Yoga Studio, do-TERRA Essential Oils, AXIS Sports Medicine, MindSprings Health, Summit Community Care Clinic Medical and Dental Services, St. Anthony Medical Center, Fidelity Investments, Silverthorne Rec Center, Family Intercultural Resource Center, Whole Life Nutrition, Bristlecone Health Services, High Country Healthcare, Colorado State Patrol, Advocates for Victims of Assault and Strategies Capital Management. Each booth provided information on their services and many engaged participants through interactive exercises.
As an incentive for participation, all BGV employees who attend the event, complete the in-person health screening and finalize an online health risk assessment are awarded $100 in wellness money that can be used towards any health and wellness related activities including, but not limited to, rec center passes, gym memberships, ski passes or yoga memberships. Additionally, BGV awarded participants with a chance to win raffle prizes provided by the vendors and by BGV amenities. These incentives, prizes, healthcare resources, flu shots, blood work evaluations and health assessments demonstrate BGV's commitment to employees and their families, as well as a strong dedication to the overall well-being of the Breckenridge community.
About Breckenridge Grand Vacations
Breckenridge Grand Vacations (BGV) is the parent company of award winning properties: Gold Point Resort, Grand Timber Lodge, Grand Lodge on Peak 7 and the new Grand Colorado on Peak 8. Since 1984, BGV has had the honor of helping over 20,000 families create memories that last a lifetime through high-end vacation ownership. BGV has been recognized as one of the most successful, independent developers in the industry. With the motto, "Our Family Commitment: Always Grand Vacations," BGV defines its success by how much it positively impacts the lives of its owners, guests, employees and the community.