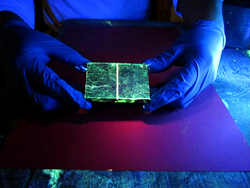 We make it as easy as possible to get an education to move forward in life and get into a high demand job and career with great pay.
Baxter, Minnesota (PRWEB) November 04, 2015
Nondestructive Testing (NDT) is one of the leading high demand jobs that is showing growth year over year. The American Institute of Nondestructive Testing is an NDT school located in Baxter, Minnesota, that has currently moved into a new 6400 sq ft building.
The American Institute of Nondestructive Testing was founded in May of 2013 by CEO Donald Booth. Their NDT training program consists of five months of online training followed by 24 days of intensive hands-on training at their Baxter, MN facility. Graduates will use radiographic, ultrasonic, magnetic particle, and visual inspection tools, among others, to learn the skills necessary to enter into the field of nondestructive testing. These skills will be used for inspection in a vast array of fields such as, aerospace, aviation, pipeline integrity, railroad, refineries, as well as, alternative energies such as nuclear and wind.
Since the grand opening of the NDT School, the American Institute of Nondestructive Testing has had a 95% employment placement. When asked why he believes his school has shown such great success, AINDT CEO Donald Booth replied, "The success of our school is largely due to the fact that skilled trades, more often than not, lead to high demand careers in a shorter time frame of education, which is what people are looking for in today's economy. Our blended learning program allows for more individuals to be able to change careers without disrupting their lives completely by having to relocate or just drop everything to go back to school. People have lives, family, and commitments, we make it as easy as possible to get an education to move forward in life and get into a high demand career with great pay."