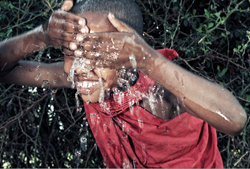 Access to safe water creates opportunities and can literally transform the future of a human being overnight
Santa Monica, California (PRWEB) November 04, 2015
The Samburu Project, a Santa Monica-based 501c3 nonprofit, will celebrate 10 years of creating access to safe drinking water throughout Samburu, Kenya at this year's third annual "Splash Bash". The fundraising event will be held on Saturday, November 7, 2015 from 7:30 – 10:30 pm at Smashbox Studios in Culver City.
The ticketed event will feature libations by Tito's Handmade Vodka, Rock Sake, Lynmar Estate, Lagunitas, AquaHydrate, Groundwork Coffee and Juice Crafters, light fare by Whole Foods, Aussie Pie, Copenhagen Pastry, Milk & Brookies and Instacart, entertainment by KCRW's Raul Campos and Balandugu Kan. Other event sponsors include Kore Capital, Dixon and Paper Dolls.
Since 2005, the nonprofit has facilitated the drilling of 73 wells in this area in East Africa, providing potable water to more than 70,000 people. An additional 10 wells are planned for completion by the end of 2015.
Access to water has also created a ripple effect in the region. Every aspect of the community prospers when water for drinking, cooking and bathing is readily available.
Kristen Kosinski, Founder and Executive Director of The Samburu Project, explains how the new wells affect the lives of women and children in particular: a preventable disease present in contaminated water takes the life of a child every 20 seconds. In addition to health impacts, culture, education and economics are profoundly affected. "Samburu women and girls often walk for several hours every day, meaning about 12 miles, to find water if there is no well in their community," she says. "This means that girls cannot attend school, and also that women may not have time to start a businesses, like a garden or other micro-enterprise activities, and earn money. Water is critical to health, and health is the universal gateway for development and poverty alleviation. Access to safe water creates opportunities and can literally transform the future of a human being overnight." (For a glimpse of what's being accomplished by The Samburu Project, visit https://vimeo.com/120555477)
According to UNICEF and the World Health Organization, clean drinking water is the first crucial step toward sanitation and hygiene which can save the lives of between 4,000 – 6,000 children each day in Africa and Asia. Without these essential resources, preventable diseases including cholera, dengue fever, typhoid fever, trachoma, hepatitis A, dysentery and malaria are passed easily.
EVENT DETAILS:
WHAT: The Samburu Project's 3rd Annual "Splash Bash" Fundraiser
WHEN: Saturday, November 7, 2015 from 7:30-10:30 pm
WHERE: Smashbox Studios, 8549 Higuera Street, Culver City, CA
HOW: Tickets are available now at http://www.samburusplashbash.org/rsvp
For more information, contact Kristen Kosinski at kristen(at)thesamburuproject(dot)org or 310-881-7265
Special thanks to our sponsors:
KORE Capital, Whole Foods, Lagunitas Brewing, Aqua Hydrate, Lynmar Estate, Juice Crafters, Milk + Brookies, Copenhagen Pastry, Dixon, APK, Instacart, Groundwork, Paper Dolls, Rock Sake, Tito's Handmade Vodka
With clean water, it becomes possible to impact other aspects of community life including education, healthcare, income generation and women's empowerment. With water, development happens. For more information, please visit http://www.thesamburuproject.org.