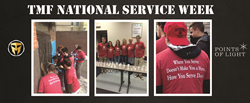 National Service Week is about educating the next generation on why it is important to serve others and to dedicate yourself to your community, just like our fallen heroes have dedicated themselves to our nation.
Doylestown, PA (PRWEB) November 04, 2015
The Travis Manion Foundation and Points of Light are partnering to host National Service Week during the week of Veterans Day. National Service Week is a nationwide service event held bi-annually, which honors our nation's fallen heroes by serving the local community in their honor. Last April, more than 800 volunteers participated in National Service Week in five cities throughout the country. TMF and POL are looking to feed off last spring's enthusiasm and carry the momentum into November.
National Service Week projects range from outdoor beautification in Philadelphia to a community cleanup in San Diego to feeding the homeless in Washington, D.C. These projects activate veterans, families of the fallen and young adults to serve their local communities in honor of fallen heroes. For more information about National Service Week, visit our website at http://www.travismanion.org.
About Travis Manion Foundation
The Travis Manion Foundation is a 501(c)3, founded shortly after the death of 1st Lt. Travis Manion in Iraq on April 29, 2007. The Travis Manion Foundation assists our nation's Veterans & families of the fallen by empowering them to take the next step in their personal journeys and inspiring the next generation of leaders. The Foundation believes the best way to honor the fallen is by challenging the living. "If Not Me, Then Who…", the words Travis spoke before leaving for his second and final deployment to Iraq, have inspired a national movement to service.
About Points of Light
Points of Light's is the world's leading organization dedicated to volunteer service. POL's Military Initiatives engage and support service members, veterans, and their families in as they transition into local communities. POL achieves this by sharing resources to address challenges of the military, training volunteer leaders to address community needs, and engaging the MilVet population in service projects.
Media Contact
-Derrick Morgan, Manager of Marketing & Communications - Travis Manion Foundation
C: 215-622-2225 - Derrick(at)travismanion(dot)org
-Shanessa Bryant, Marketing & Communications Specialist, Military Initiatives - Points of Light
C: 252-423-0652 - Sbryant(at)pointsoflight(dot)org