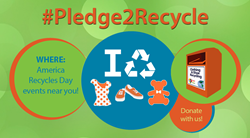 (PRWEB) November 04, 2015
America Recycles Day (ARD) kicks off this month with approximately 1.5 million people from all across the country participating in recycling events in their neighborhoods. The ARD campaign, now in its nineteenth year, is a nationally recognized day dedicated to promoting and celebrating recycling in the United States. It grows in size and popularity annually, having an increasingly valuable impact on how citizens view recycling 365 days a year.
This year, American Textile Recycling Service (ATRS) sets a new record for hosting clothing donation drives on America Recycles Day. Through its Pledge2Recycle Campaign, ATRS sponsors community education events, donation drives and textile drop offs to raise awareness about the importance of properly disposing of unwanted clothing, shoes, toys and household textiles.
This year a total of 19 events will be hosted by the nation's fastest growing textile recycler in partnership with municipalities, property management companies, schools, churches and local businesses. Other organizations such as California State University Northridge, Orlando International Airport and Tennessee Department of Transportation have joined with ATRS to create more drop off locations than ever before. Additionally, KAB affiliates Keep DeKalb Beautiful, Keep Scottsdale Beautiful, Keep Tennessee Beautiful and OKC Beautiful have partnered with ATRS. Now even more families, children, employees and residents will have easy & convenient access to textile recycling solutions during the month of November.
Green-minded residents can find their nearest ATRS sponsored event by visiting the Pledge2Recycle landing page. An interactive event map features a pop-up for every Clothing & Shoe donation drop off venue across the country. A scroll over feature showcases each location and provides more information about the America Recycles Day tradition.
According to Keep America Beautiful, the national average for recycling is 34.5%. However, the Secondary Materials and Recycled Textiles (SMART) Association reports that only 15% of discarded textiles like clothing, shoes and toys are donated or recycled - much less than plastic, aluminum or other recyclable materials. The ATRS Pledge2Recycle campaign helps communities create new habits and provides easy-to-use solutions to address these often overlooked recyclables.
For the ATRS employees and volunteers staffing these fun, family events, America Recycles Day is not just an opportunity to divert gently used, out of season or unwanted textiles from landfill. It is also a chance to give back and support worthy charitable partners. Clothing, shoes, toys and household textiles donated during the Pledge2Recycle campaign creates funding for non profits like Children's Miracle Network in Dallas and Ft. Worth, Colorado Adaptive Sports Foundation, Giving Children Hope, Houston Area Community Services and Mothers Against Drunk Driving in Tennessee, Tulsa and Tucson.
ATRS challenges residents to clean out their closets and donate not just this month, but all throughout the year. To find the nearest year round Clothing & Shoe Recycler, call the 24-Hr Hotline at 866-900-9308 or visit http://www.atrscorp.com/contact. Connect with ATRS on social media using the dedicated hashtag #Pledge2Recycle and shout out your efforts to Keep America Beautiful using hashtag #IWillRecycle.
American Textile Recycling Service (ATRS) is the nation's fastest growing textile recycler and proud to be among America's leading companies proudly making America Recycles Day possible. Its socially responsible business model provides free textile recycling solutions for the public, job stimulation worldwide and much-needed funding for worthy local charities. Easy, convenient ATRSrecyclers are available throughout Southern California, Atlanta, Orlando, Phoenix, Scottsdale, Tempe and Tucson AZ, San Antonio, Austin, Dallas, Houston, Galveston and Beaumont TX, Michigan, Oklahoma, Colorado and Tennessee. For press inquires contact pr(at)atrsonline(dot)com.