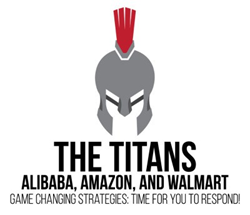 if you respond you will be at a competitive advantage, if you do not respond you will lose customers, market share, and profitability
(PRWEB) November 04, 2015
On November 4, 2015, Jim Tompkins, CEO, Tompkins International, newest thought leadership video The Titans: Alibaba, Amazon, and Walmart: Game Changing Strategies: Time For You To Respond will be released. Jim Tompkins continues to shape and grow the supply chain industry through innovative ideas, insight, and intelligence.
Throughout the video Jim Tompkins explains the importance of the Titans' supply chains and why businesses must respond to Alibaba, Amazon, and Walmart through creating a competitive supply chain. With the use of graphics, quotes, data, and proven results, it is clear businesses must be able to compete with the Titans in order to achieve profitability.
Jim Tompkins explains how Alibaba, Amazon, and Walmart have become the Titans.
Alibaba is the leader in crossborder commerce. By designing the right operations strategy, one that takes a global view of omnichannel operations, which defines customer service needs across cultures, that understands local requirements, and chooses the proper mix of global, regional, local, and hyper local supply chains a business, will be on the way to becoming crossborder ready.
Amazon is the leader in customer centricity. To become customer centric obsessed a business must place its customer at its core. This happens when a business provides a wide selection of products, has good pricing options, creates a convenient purchasing process, and provides a good experience for the customer.
Walmart is the leader in omnichannel. Businesses must also focus on omnichannel logistics. Omnichannel logistics includes; combining of facilities, focusing on delivery options, becoming adaptable during peak seasons, collecting and using proper data and analytics in order to improve the supply chain, just to name a few of the focus areas needed in an omnichannel logistics strategy.
You must understand the supply chain innovations taking place at Alibaba, Amazon, and Walmart. Simply stated by Jim Tompkins, "If you respond you will be at a competitive advantage, if you do not respond you will lose customers, market share, and profitability."