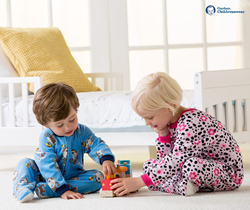 (PRWEB) November 04, 2015
We heard from parents loud and clear that they're looking for ultimate comfort, softness and warmth for their little ones in the cooler months, especially at bedtime. Gerber soft blanket sleepers for infants and toddlers are the perfect layering piece at night and they've been awarded the Parent-Tested Parent-Approved Winner's Seal of Approval.
• Soft fabric: 100% lightweight microfiber fleece fabric has a soft feel and lasts long
after multiple washings.
• Comfortable: No scratchy tags and gusseted crotch provide extra room for
overnight diapering.
• Safe: Tab over zipper pull on 6, 12, 18 month sizes to protect tiny chins and
non-skid soles to prevent child from slipping.
• Designed for convenience: Easy on / off dressing with zipper opening for quick
changes.
• Our commitment: Quality at a value price.
Why Gerber blanket sleepers? Here's what just a few parent-testers had to say:
• "This is a great product from a name I can trust. I loved the soft, comfy nature of
the product and the lasting quality of the material."
• "It's so soft and cozy that it's like she's wrapped in a blanket all night."
• "The price is great!"
Bundle your little one up in a Gerber soft blanket sleeper today! Infant and toddler assortments for boys and girls available now at Amazon.com, Walmart, Walmart.com, Target.com, and gerberchildrenswear.com.
About Gerber Childrenswear LLC
Gerber Childrenswear LLC is a leading socially responsible marketer of children's everyday basic/fashion/activewear apparel and related products which it offers under some of the world's trusted brands. Licensed brands include our flagship brand, Gerber®, as well as Jockey®, NFL® and New Balance®. Proprietary brands include Onesies® brand and Always Baby®. The company sells layette, sleepwear, playwear, activewear, undergarments, accessories, hosiery, bibs/burp cloths, bath, bedding and cloth diapers to all channels of distribution. For additional information about the company, please visit gerberchildrenswear.com.
Media Contact: Jeanne Dullea, Sr. VP Business Development, Gerber Childrenswear LLC, jdullea(at)Gerbercw(dot)com