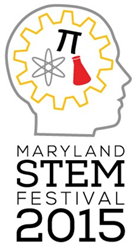 Owings Mills, Md. (PRWEB) November 06, 2015
Garrison Forest School, a leader in girls' Science, Technology, Engineering, Art/Design and Math (STEAM) education and a partner with Johns Hopkins for in-depth research mentorships for GFS students, is hosting its first-ever GFS Maker Faire. Held on Sunday, November 8 from noon until 4 p.m. in the Searle Athletic Center at Garrison Forest, the Maker Faire is part of the inaugural Maryland STEM Festival, a statewide program in which groups across Maryland host STEM-related programming in science, technology, engineering and math.
With its strong history of exceptional visual and performing arts programs, GFS faculty and administrators added Art/Design to the other STEM disciplines. For the GFS Maker Faire, STEAM faculty has created several all-ages activities, including: the "Build a Helicopter" challenge: the "Creation Station;" and a "Group Sculpture" engineering and art activity. Participants can mess around with circuits and motors, assemble a laser-cut keepsake, explore the GFS STEAM Showcase featuring robotics, see 3D technology in action, win STEAM prizes, and much more!
The GFS Maker Faire is open to the public and all activities are free for everyone. There is ample parking on campus.
Many of the activities are part of the maker/tinkerer repertoire of Garrison Forest's new maker spaces, which launched at the start of the 2015-16 school year. Called the Creative Co-op (http://www.gfs.org/academics/creative-co-op), this program encompasses three design and engineering labs on campus, curricular and co-curricular programs and a series of workshops open to the public.
The GFS Maker Faire is held concurrently with the Junior Class's Fall Fest, an indoor carnival also held on November 8, noon – 4 p.m. in the Searle Athletic Center. Admittance to Fall Fest is free; food and games are an additional charge.