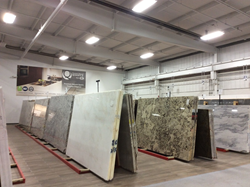 Our new location includes a 10,000 square foot Slab Selection Showroom displaying over 200 natural stone and quartz colors.
Detroit, MI (PRWEB) November 04, 2015
M S International Inc., North America's Leading Supplier of Premium Surfacing Products, announced the opening of its 19th distribution center just outside of Detroit, Michigan.
This new facility for MSI features a 65,000 sq. ft. distribution center showcasing a full offering of MSI's product lines of natural stone, Q™ Premium Natural Quartz, porcelain, decorative mosaics, and hardscaping products. Its impressive design brings Detroit a state-of-the-art showroom and the most spacious slab selection showroom in the area.
The Slab Selection Showroom includes a 10,000 sq. ft. Countertop & Slab Selection Gallery displaying over 200 colors of granite, marble, and other natural stones from around the world. In addition, the slab selection showroom includes a dedicated area showing approximately 45 colors of QTM Premium Natural Quartz, North America's fastest growing line of quartz countertops.
The 5,000 sq. ft. Tile Showroom exhibits hundreds of porcelain, granite, marble, travertine, glass, limestone, and ceramic SKUs – including more than 100 brand new product introductions for 2015. Committed to offering an incredible customer experience, MSI fit the showrooms with inspiring product installations, customer-friendly lighting, and our interactive Kitchen Visualizer tool to help facilitate selection.
According to Rup Shah, Co-President of MSI, "We have been servicing the Michigan market for many years without a distribution center in Michigan. Thanks to the growth and encouragement from our customers, we opened this new facility to bring local availability of MSI's full breadth of product to customers across Michigan. We invite our customers to come meet our entire team, see all the new and exciting products MSI has to offer, and observe firsthand the most customer-friendly slab selection showroom in all of Michigan."
The New Distribution Center is conveniently located at:
30150 S. Wixom Road
Wixom, MI 48393
Phone: 248-863-2800
About M S International, Inc. Founded in 1975, MSI is a leading nationwide distributor of flooring, countertop, wall tile, and hardscaping products. Headquartered in Orange, California, MSI also maintains distribution centers across the United States and Canada. MSI's product line includes natural stone, porcelain, ceramic, glass and quartz products imported from over 36 countries on six continents. The company maintains an inventory of over 100 million square feet. For more information, visit http://www.msistone.com.