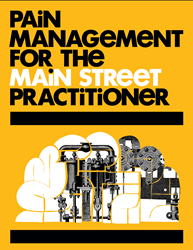 ...[PAINWeekEnd] was better than any academic meeting I've ever attended!
Montclair, NJ (PRWEB) November 04, 2015
"This was better than any academic meeting I've ever attended!" said Irving Blatt, MD, FACS, MHA, of a previous PAINWeekEnd conference. Convening Saturday, November 14, PAINWeekEnd Houston is constructed to meet the needs of busy clinicians and allied healthcare practitioners, delivering a full day of relevant, practical instruction in the management of chronic pain, together with the opportunity for stimulating interaction and exchange with faculty and fellow attendees. The conference will take place at the Hyatt Regency Houston on 1200 Louisiana Street.
PAINWeek and PAINWeekEnd faculty member Jen Bolen, JD and founder of The Legal Side of Pain, says, "Federal agencies continue to tackle the opioid overdose problem. Pain practitioners should strive to stay current through education…especially by making sure their rationale for opioid therapy is medically sound and their risk evaluation, stratification, and monitoring practices are within the usual course of professional practice. PAINWeekEnd is a great way to get that necessary education."
Texas requires all physicians to obtain 24 hours of CME every year, and at least 2 formal hours involving the study of medical ethics and/or professional responsibility. By attending PAINWeekEnd Houston, participants can receive 7.0 AMA PRA Category 1 Credits™—and 1 Ethics Credit (for the course entitled "Ethical Implications of "Just Saying No" to Opioids for Noncancer Pain") as they enhance their skills in medication risk evaluation and mitigation, in pain assessment and diagnosis, and in the delivery of individualized multimodal treatment.
Now in their 5th year, PAINWeekEnd Regional Conferences are produced by PAINWeek®— the leading pain education resource for frontline practitioners. Chronic pain is a major public health issue and a concern that primary care clinicians face every day as they absorb the burden of care for an aging population. Summing up the challenge, senior PAINWeek faculty member Kevin L. Zacharoff, MD, FACIP, FACPE, FAAP, remarked, "Chronic pain patients are on the doorstep of every healthcare provider on Main Street USA!"
Course titles include: Fire the Molecule, Not the Patient! Addressing Irresponsible Prescribing through Universal Precautions; Nonopioid Analgesics: Antidepressants, Adjuvant Therapies, and Muscle Relaxants; Medical Cannabinoids: An Update on What You Need to Know for Your Practice; Ethical Implications of "Just Saying No" to Opioids for Noncancer Pain; Patient Centered Urine Drug Testing; and Obscurity of Opioids. In addition, there will be commercially supported activities addressing a range of product, disease state, and medical information topics.
The PAINWeekEnd curriculum will be presented by a multidisciplinary faculty and is intended for frontline clinicians including physicians, nurses, nurse practitioners, physician assistants, and pharmacists.
The online registration fee for PAINWeekEnd Conferences is $99.
More About PAINWeekEnd
PAINWeekEnd registrants are further offered the opportunity to register for the 2016 PAINWeek National Conference, September 6-10, in Las Vegas for $99 off the current online published price.
Groups of 5 or more PAINWeekEnd registrants also receive one FREE registration to the PAINWeek National Conference.
To review the complete Houston agenda, please visit http://www.painweekend.org.
PAINWeekEnd is provided by Global Education Group.