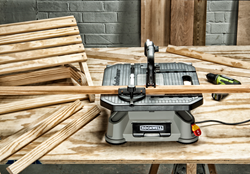 Positec was cited by Lowe's for two popular tool innovations: the Rockwell Bladerunner X2 and WORX 20V Switchdriver Drill and Driver.
Charlotte, N.C. (PRWEB) November 04, 2015
Positec USA, Inc. has been named a winner of the 2015 Innovation Partner of the Year Award by Lowe's Companies Inc. Lowe's prestigious Innovation and Vendor Partner Awards were presented recently to 16 of the company's vendor partners during its annual vendor forum at Moorsville, N.C. Companies were selected for setting the highest bar in innovation, as well as their commitment to product quality and customer service.
In particular, Positec was cited for two popular tool innovations: the Rockwell Bladerunner X2 and WORX 20V Switchdriver Drill and Driver.
The Rockwell Bladerunner X2 is a compact, lightweight and affordable benchtop saw that uses standard T-shank jigsaw blades to cut nearly anything in its path, including wood, PVC, plastic, ceramic tile, aluminum and other non-ferrous metals. By simply changing blades, Bladerunner X2 makes fast and accurate rip, cross, scroll, inside and miter cuts.
The BladeRunner X2 weighs less than 15 lbs. and is powered by a 5.5-amp motor that delivers 3,000 strokes per minute. Its cutting capacity is 1½ inch in wood; 1¼ inch in PVC; 3/8 inch in aluminum and ceramic tile, and 1/8 inch in mild steel. The blade stroke is 3/4 inch.
The WORX 20V Switchdriver Drill and Driver has a patented rotating, dual chuck that makes switching between bits quick and easy. It also features electronic torque control that prevents stripping of screws. Two powerful and lightweight 20V MaxLithium batteries deliver long-lasting performance without self-discharge.
The Switchdriver's variable, two-speed gearing handles most drilling and driving tasks. A built-in LED light illuminates the work area.
"We've won this award through the efforts of many people over several years," said Ned Cox, Positec's Vice-President of Sales. "In addition to product innovation, we were recognized for our omni-channel marketing campaign, 'Tools for Dads that Rock.' The success of this project resulted from deep collaboration across multiple departments at both Lowe's and Positec."
About Positec:
Rockwell and WORX tools are a part of the Positec Group of companies, which have been designing, engineering and manufacturing power tools since 1994. Positec Tool Group markets and distributes its Rockwell® power tools and WORX® yard and power tools to home improvement retailers throughout the US and Canada. Since its founding in 1994, Positec has achieved industry-leading growth and employs almost 4,000 people in 12 countries. For more information, visit http://www.positectoolgroup.com.