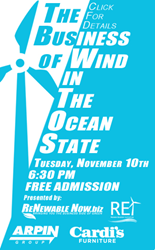 Understanding the potential of the wind industry and the opportunities that exist should be a priority for all communities who are looking to save money
Providence, RI (PRWEB) November 05, 2015
The Business of Wind In The Ocean State is a live production that brings together a stellar panel to explore the economic impact, and the future of the wind industry in Rhode Island, and the region. The panel includes; Jeff Grybowski, CEO of Deepwater Wind, Hannah Morini of Wind Energy Development, Fred Presley, Town Manager West Warwick, and Robert Whitcomb, journalist and co-author of "Cape Wind". Moderating the discussion from the National Wildlife Federation is Miles Grant.
The event is scheduled for Tuesday, November 10th at 6:30 pm and is being hosted at the Arpin Group World Headquarters, 99 James P Murphy Ind Hwy West Warwick, RI 02893. Tickets are free but must be reserved in advance for those who wish to be part of the studio audience at RI Wind Tickets . Doors open at 5:30 for a meet and greet, and complementary food, and refreshments.
ReNewable Now produces ongoing events that help to bring attention to the growing Green Economy. The wind industry according to the U.S. Department of Energy reports that, "The wind energy market is currently estimated to reach a global worth of $250 billion by 2020, with electricity generated from wind energy a viable source in all 50 states by 2050, yielding significant job growth, a substantially increased renewable energy portfolio, and additional tax revenue." Peter Arpin, of the Arpin Group said, "Understanding the potential of the wind industry and the opportunities that exist should be a priority for all communities who are looking to save money, and we are very excited to be hosting such an important event."
For those who cannot attend in person, the event can be watched by clicking LIVE The Business of Wind in The Ocean State.