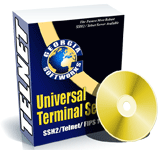 They offer mobile device management, network infrastructure, data services and off-site mobility, making them an excellent partner for the solutions that GSW provides
Dawsonville, Georgia (PRWEB) November 11, 2015
Since November 2005, MIS Computer Corporation has been an authorized reseller of the GSW Telnet Server for Windows and SSH Server for Windows. Headquartered in Chicago, Illinois, MIS Computer Corp is a service-oriented technology company that has been providing comprehensive IT service and support to businesses throughout North America and Europe since 1982.
MIS Computer Corp (MIS) combines 30 years of IT experience with innovations in the Enterprise, Healthcare and education industries, specializing in evaluating the needs of individual businesses as they relate to technology and reliable solutions. In addition to IT Support, MIS is a reseller of hardware, networking and software products. They offer mobile device management, network infrastructure, data services and off-site mobility, making them an excellent partner for the solutions that GSW provides.
Georgia SoftWorks is a software development company located in Dawsonville, GA (USA) and has received global recognition for its development of the industrial grade GSW Telnet Server for Windows and SSH Server for Windows. The GSW software is used in thousands of data collection environments around the world and has end users and resellers on every continent except Antarctica. GSW software is used in almost every industry, including automobile factories, airlines, soft drink manufactures, pharmaceutical companies and more.
"We are proud to celebrate this 10 year milestone with MIS Computer," said Doug Hitchcock of Georgia SoftWorks. "We look forward to celebrating more milestones with them."
About Georgia SoftWorks:
Established in 1991, Georgia SoftWorks is a privately held software development company recognized for creating high performance data communications, system and telecommunications applications. Georgia SoftWorks has obtained a worldwide presence with its industrial SSH/Telnet Server for Microsoft Windows. GSW's long-term commitment to SSH/Telnet has led to the pioneering of major features such as Session Shadowing, Session Monitoring, Graceful Termination, Automatic Logon, Logon Scripting and more recently Team Services technology which allows mobile device users to transfer, swap, share and recover mobile device sessions. GSW has also provided the very first SSH Server to provide Digital Certificate Authentication with an Internet Information Server (IIS) like certificate-to-user account mapping. This includes 'One-to-one' and 'Many-to-one' mapping methods and also supports certificate trust lists (CTL).