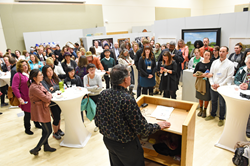 Salt Lake City, Utah (PRWEB) November 03, 2015
Salt Lake Community College recently held its 2015 President's Art Show opening reception at South City Campus' Center for Arts and Media, giving out $4,500 for top prizes.
Rob Adamson, a professor in SLCC's Visual Art and Design department, won $1,500 and Best in Show for his oil painting "Union Pacific Station." Lori McPherson won $1,000 and the President's Award for her trace monotype print "Clustering Sea Horse Eggs." Steven Sheffield won the Community Award and $1,000 for his acrylic crayon and graphite on panel piece called "Up." The second and third Runner Up prizes, each worth $500, were awarded to Ryan Moffett for his ceramic and electrical hardware piece called "Disconnect" and Ed Browning's mixed media entry "Orbicular." SLCC President Deneece G. Huftalin chose Madison Donnelly's $750 wood piece "Wig and Stand" as the 2015 President's Purchase.
The popular show is a celebration of local artists and the power of art to bring together people from across the community. Derived from more than 230 submissions this year, this latest exhibition showcases a wide range of talented and promising professional and amateur artists using their talents and skills in a variety of mediums. Many of the works are for sale and are on public display in the Multipurpose Room at SLCC's Center for Arts and Media until November 13.
SLCC's Center for Arts and Media is a state-of-the-industry facility with 130,000 square feet of additional space at its South City Campus, 1575 South State Street, Salt Lake City. World-class features include a 2,000 square-foot television studio and control room, a 3,000 square-foot film stage, a 36-seat screening room, three MIDI (Musical Instrument Digital Interface) classrooms, 22 editing bays, an animation lab, radio station and a recording studio with 64 channels for collaboration in as many locations throughout the building. The center, which is physically connected to Innovations High School, serves an estimated 9,000 students and brings together 17 programs under one roof for SLCC's School of Arts, Communication and New Media.