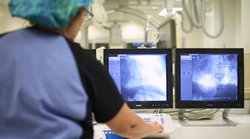 Our ability to help patients suffering from chronic, degenerative diseases is a point of pride for the team. - CEO Okyanos Mathew Feshbach
Freeport, Grand Bahama (PRWEB) November 04, 2015
Okyanos, the leader in cell therapy for chronic disease, celebrated its first anniversary in October. Reflecting on a year of improving patients' quality of life, a number of milestones were achieved.
"Okyanos was founded in August, 2011 with the goal to provide patients with the most advanced technology for separating their own stem cells from adipose (fat) tissue, combined with imaging, delivery and monitoring technology to ensure that Okyanos' patients had the highest standard of safety and care," says Okyanos co-founder and CEO, Matthew Feshbach. "Our ability to help patients suffering from chronic, degenerative diseases is a point of pride for the team."
Okyanos began treating patients in October, 2014 after becoming the first fully licensed cell therapy provider in The Bahamas, as granted by the country's National Stem Cell Ethics Committee (NSEC).
Throughout the year, Okyanos patients have benefited from use of the most advanced technology available for cell processing—the internationally-approved Celution 800 IV system, which provides the highest yield of therapeutic cells and has been approved for safe delivery into the vascular system including the heart. In addition, Okyanos technology includes a Philips bi-plane cath lab and Perkins imaging system, providing a 3-D image of the heart alongside use of the C-cath delivery catheter. These combined technologies provide no-option congestive heart failure patients with the highest standard of safety for the delivery of adipose-derived stem and regenerative cells (ADRCs) into the heart muscle for the repair of damage from prior heart attacks, restoration of heart function and an improved quality of life.
"Okyanos is the first true cell therapy center of excellence in the world," said Prof. Dr. Eric Duckers, Chairman of the Okyanos Medical Advisory Council and a recognized leader in regenerative medicine research. "This purpose-built facility is ideal for patients with autoimmune, orthopedic, cardiovascular and neurological conditions to safely receive the highest possible therapeutic dose of ADRCs due to their technological investments."
Okyanos has also established leadership in the the cell therapy field by demonstrating the ability to treat patients with complex conditions, in many cases involving more than one degenerative disease (co-morbidities).
Paul, a leading IVF doctor from the UK and an Okyanos patient, recently shared the details of how nearly a decade ago, crippling neuropathy robbed him of his quality of life. "Eventually the pain was like a red-hot poker jammed up my heels. But the worst thing really was the loss of mobility," says Dr. Paul. "I couldn't stand for more than 2-3 minutes without extreme pain. I was virtually reduced to a wheelchair."
After years of trying every imaginable treatment, Dr. Paul's medical science background and strong desire for long-term relief led him to Okyanos, where he was treated in April, 2015.
"Gone is the red-hot poker pain. Also, my feet—diabetics commonly get claw toes where the toes are not straight due to blood flow diminishing, as well as ulcers, skin conditions, and sweating. All those things have disappeared," he shares. "After almost half a century in medicine, I've seen a lot of operations all over the world, and Okyanos is absolutely amazing. It's not just the treatment and the equipment but the way people treat you."
Okyanos has also begun to contribute to the advancement of cell therapy research, having just recently completed the initial stages of a privately-funded study of patients with progressive multiple sclerosis, many of whom are now in post-treatment follow-up.
Looking to the future of Okyanos Cell Therapy, co-founder and CEO Matthew Feshbach shares a piece of the healthcare company's vision for 2016:
"Okyanos cell therapy has been developed on a foundation of vast scientific and clinical research, which is an evolving body of knowledge," says Feshbach. "We remain active members of the scientific community and adopt only technologies and protocols into Okyanos treatment which align with our mission, which is to help patients with chronic, degenerative conditions to return to a more normal life."
Just 55 miles from US shore, Okyanos Cell Therapy is available to patients suffering with the daily limitations of heart disease, neuropathy, diabetes, multiple sclerosis, arthritis, orthopedic problems and other chronic, degenerative conditions. This innovative procedure is premised on the healing power of adult stem cells isolated from the patient's body fat which have the ability to decrease inflammation, repair damaged tissue and stimulate new blood vessel growth.
Patients can contact Okyanos to learn more and request a complimentary consultation with one of our doctors by visiting http://www.okyanos.com or by calling 1-855-659-2667.
About Okyanos: (Oh – key – AH – nos)
Based in Freeport, Grand Bahama, Okyanos helps patients with chronic, degenerative conditions get back to a more normal life with cell therapy. This innovative treatment utilizes a unique blend of multipotent stem and regenerative cells derived from patients' own adipose (fat) tissue which have been established in research to possess multiple mechanisms that address inflammation, poor blood flow, neurodegeneration, destructive immune response and tissue degeneration. Okyanos is fully licensed under the Bahamas Stem Cell Therapy and Research Act and has been specially built to U.S. surgical center standards. The literary name Okyanos, the Greek god of the river Okyanos, symbolizes restoration of blood flow.