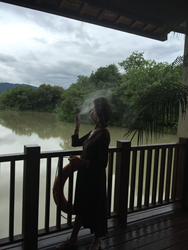 Grants Pass, OR (PRWEB) November 04, 2015
When eyes burn, vision is blurry and eyelids feel heavy after staying out late and getting up early, it's may be from lack of sleep. However, the same symptoms can occur even after a full eight hours. Burning eyes, heavy eyelids and fatigue, no matter what the cause, are actually symptoms of a condition called "dry eye." Either way, reports fresh water advocate and radio host Sharon Kleyne, the symptoms should never be ignored.
Kleyne will discuss dry eye prevention and lack of sleep on her upcoming Sharon Kleyne Hour® Power of Water® radio show of Nov. 9, 2015. For the live show or a podcast, go to http://www.SharonKleyneHour.com.
The globally syndicated, education oriented show is heard weekly on VoiceAmerica (Health and Wellness, and Variety Channels) and Apple iTunes. The show is sponsored by Bio-Logic Aqua® Research – Water Life Science®, founded by Kleyne and specializing in fresh water, the atmosphere, body surface evaporation and dehydration. The Research Center's signature product is Nature's Tears® EyeMist® for dry eye.
There are three facts that everyone should know about dry eye and sleep, says Kleyne. First, left untreated, severe chronic dry eye can cause permanent vision damage, not to mention severe chronic eye discomfort. Second, by taking precautions to prevent dry eye symptoms, sleep will improve and even after a poor night's sleep, eyes symptoms won't feel as bad. Third, dry eye tends to be self-perpetuating but if caught in early stages, is easily preventable.
Dry eye symptoms occur, Kleyne explains, when the basal tear film that coats the exposed portion of the eye loses water content. The tear film is 99 percent water and a loss of only 2 percent can trigger symptoms. Once the process is set in motion, the eyes signal the brain that something is wrong and the brain responds with eye inflammation hormones. There hormones are a cause of discomfort and their presence actually intensifies the symptoms.
Here's how normal eye hydration works: When eyes are open, tear film water evaporates (in spite of a thin layer of oil on top of the water). When the eyelids blink, the lost water is restored. A normal blink rate is about 30 times a minute. When a person is deeply engrossed, the blink rate can drop as low as three times a minute, in which case the tear glands may have difficulty keeping the eye surface sufficiently moist.
As the day wears on and evaporation continues, tear glands have an increasingly difficult time keeping up and eyes begin feeling tired. Sleep, of course, is a time of renewal, when everything gets fixed. After seven to eight hours, the eyes should feel renewed and refreshed.
Except for one tiny problem: When we awaken, the body often hasn't had a drink in seven to eight hours and may be dehydrated. As a result, the mouth feels cottony and eyes feel bleary and crusty. To counteract this, Kleyne recommends a glass of water (8 ounces) before bed and two glasses immediately upon rising. Warm water is less likely to waken you in the middle of the night.
If eyes are well care for and well hydrated to begin with, losing a few hours sleep will cause far less discomfort. On the other hand, with an active dry eye process, eyes may feel tired and uncomfortable even after 10 hours sleep.
To maintain eye and body hydration, Kleyne recommends drinking eight glasses of water per day, in addition to all other fluid intake. This should include four full glasses drunk all at once rather than sipped. Avoid sugar, caffeine, alcohol and carbonation because they are dehydrating to the body. People under 100 pounds should drink half their body weight in ounces per day (50 pounds = 25 ounces).
Kleyne also recommends frequent misting with a personal portable hand-held humidifying device to supplement evaporated moisture in eyes, eyelids and face. Nature's Tears® EyeMist®, from Kleyne's Bio-Logic Aqua® Research, provides a quick and soothing tear film supplement. Available at Walgreen, Amazon.com and AC Lens.
©2015 Bio-Logic Aqua® Research Water Life Science®. All rights reserved.
Reference:
"How lack of sleep affects your vision," Eye Health Northwest, 11-20-2012
http://www.ehnpc.com/blog/detail/2012/11/20/how-lack-of-sleep-affects-your-vision.html