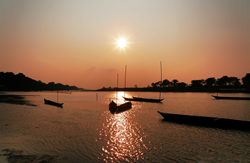 On October 30th, the Indian government announced that it had reworked the fees associated with obtaining an electronic visa to visit the country
New York, New York (PRWEB) November 05, 2015
On October 30th, the Indian government announced that it had reworked the fees associated with obtaining an electronic tourist visa to India. Niti Pti Bot of Niti Central (http://news.niticentral.com/2015/10/30/government-revises-electronic-tourist-visa-fee/) writes, "The new rates, which will be applicable from November 3, have been reduced in the case of a number of countries," quoting a statement issued by the Union Home Ministry.
The new rate scheme would break the e-Tourist Visa fee into four different tiers. The highest is the same as what it formerly cost tourist traveling from countries such as the United States, the United Kingdom, and Russia, at $60 US dollars. The next level has been lowered to $48 US dollars, and travelers from 86 different countries will be eligible to pay this rate. The next level is priced at $25 US dollars, and will be available for tourists traveling from Japan, Singapore, and Sri Lanka. Finally, the lowest tier has no visa fee whatsoever and is available to citizens of 19 countries, including Argentina, Fiji, and Samoa.
In addition to creating the tiered rate system, the Indian government has also changed the way that bank fees are charged when a traveler obtains a tourist visa to India. Instead of the old flat $2 fee that was incurred upon the purchase of an e-visa, travelers will now be charged 2.5% of the fee they paid to obtain their visa. This means that citizens of countries who pay no fees for an e-visa will not have to pay any bank fees at all.
Advances in Technology Allow Easier, More Convenient Travel
The announcement of the new payment tiers explained the new system, saying that "Besides reciprocating the gestures of other countries, it is expected that this revision of fee will also help in boosting tourism in the country. Since the launch of the scheme on November 27, 2014, more than 3,40,000 eTVs have been issued till now," India has enjoyed a 900% jump in tourist arrivals since the e-visa system was introduced, according to Niti Central.
While the e-visa system has made it simpler and easier for travelers, there are also a number of professional visa providers that make the process of obtaining an e-visa even more streamlined. Services such as iVisa.com, a company based in Boston that was launched in 2013 as e-visas became increasingly more popular, offers an innovative service to process the India eTourist Visa, automatic reminders, 24/7 support, and the ability to accept many more forms of currency than the Indian government, making the process of obtaining an e-visa almost effortless.