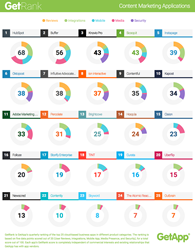 Content marketing is a unique and difficult type of marketing because it relies closely on other forms of marketing for distribution.
(PRWEB) November 05, 2015
Business app discovery site GetApp has unveiled its Q3 ranking of the top 25 cloud-based content marketing software. The apps at the top of the Q3 GetRank are HubSpot, Buffer and Knovio Pro.
GetRank is calculated around five different data points gathered from GetApp and third-party sources. Ranking factors include user reviews, integrations, mobile support, security, and social media presence. The ranking is updated each quarter and adjusted based on newly available data on each app. See our video about it here.
The aim of the GetRank is to help business buyers make the right decisions when choosing applications for their company, in this case for content marketing software.
Content marketing is often one of the most difficult branches of marketing to pin down because it relies closely on other forms of marketing for distribution.
"Content marketing is unique because it incorporates writing, brand strategy, storytelling, social media, and SEO into one thing." said Sujan Patel, VP of Marketing at When I Work, who is one of five expert contributors to GetRank's accompanying industry report, Marketing in the Cloud.
More about GetApp: GetApp, a Gartner company, is the leading premium business app discovery platform on the web. Headquartered in Barcelona (Spain), GetApp serves as a platform for user-generated and editorial reviews of software and apps for businesses.