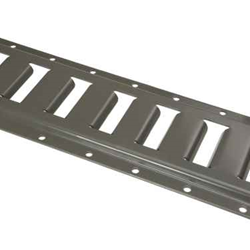 Urbana, IA (PRWEB) November 04, 2015
US Cargo Control continues to update its selection of tie down products, with the addition of gray E-track tie down rails.
E-track is a popular method of securing tie down straps in van trailers, sprinter vans, and other enclosed and utility-style trailers.
The company currently carries a line of galvanized steel E-track, as well as green painted styles which will eventually be phased out. Matt Mitchell, US Cargo Control Merchandise Category Manager, says the new gray painted line was brought in via requests from customers wanting a more neutral-colored painted style.
Both horizontal and vertical styles are available, with various lengths offered ranging from short, 2' track to long 10' track to serve US Cargo Control's varied customer base.
"E-track is extremely versatile in industries ranging from small delivery vans to full-sized van trailers," said Mitchell. "We are constantly updating our selection to make sure we have something for everyone, whether it's a consumer wanting to transport a motorcycle, or one of our business-to-business customers wishing to create a full tie down system to secure cargo in a fleet of van trailers."
The addition of the tie down rails also complements the company's expansion of its on-site strap manufacturing initiatives.
"It's been exciting to build out our manufacturing capabilities," said Mitchell. "Our next product updates will continue with that initiative, and add several more cargo net options to expand this category even further."
About US Cargo Control
US Cargo Control is a leader in the cargo control industry, specializing in lifting slings, cargo control, rigging equipment and moving supplies. Focused on offering quality products, timely delivery, and an excellent customer experience, customers can purchase products on the company's website, USCargoControl.com or by phone at 866-444-9990.