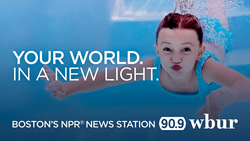 We wanted the campaign to highlight the fact that after listening to WBUR, you begin to realize that there's a different way of looking at the world. It's not black and white, it's full of vibrant color.
Boston, MA (PRWEB) November 04, 2015
With captivating visuals that convey hope and wonder and invite a closer look, the new ad campaign that debuts this week from one of the nation's leading NPR news stations may defy expectation. Created by Boathouse for 90.9 WBUR, Boston's NPR news station, the ads use thought-provoking visuals to position the media organization beyond its powerful audio brand.
The campaign, "Your World. In a New Light." highlights the theater of the mind that news and programming on WBUR creates for its audiences. The creative executions speak to consumers of all ages who want news and information that engages them emotionally and leaves them feeling enlightened rather than exhausted.
"As a long-time fan, I can tell you that there are those moments when everything -- work, traffic, distractions -- just falls away and you find yourself completely immersed in a story on WBUR," said Mark Nikolewski, Art Director, Boathouse. "We wanted the campaign to highlight the fact that after listening to WBUR, you begin to realize that there's a different way of looking at the world. It's not black and white, it's full of vibrant color."
Striking images, such as an underwater photo of young girl swimming with her eyes open, are a major component of the media mix which includes out-of-home, digital and print. "Your World. In a New Light." also features audio spots on WBUR and in its podcasts to complement the external marketing effort. With smartphones serving as radios—featuring live streaming and on demand listening capabilities—Boathouse's campaign will have impact across WBUR's digital media platforms including its award-winning website, wbur.org. According to NPR Digital Services, WBUR has the largest on-demand listening audience in the network.
"This is our first campaign with Boathouse, and we were immediately thrilled with their creative direction and messaging around our unique value proposition," said Kristen Holgerson, WBUR Director of Marketing & Promotions. "We believe that news consumers who are curious and thirsty for knowledge will discover that WBUR delivers information in a way that's mind expanding, not mind-numbing."
As a non-profit, WBUR asked prospective agencies in their RFP search to accept half of their fees in trade for underwriting announcements on WBUR. Boathouse stated their intent to use the trade for its own non-profit, Small Can Be Big, created by agency founder John Connors. The giving program harnesses the power of small, direct donations through online and social networks to help Boston-area families facing immediate financial crisis. The underwriting messages for Small Can Be Big started on WBUR this month, and will run through the holiday season.
"Not only is Boathouse fortunate enough to work with WBUR, one of the most respected, innovative public radio stations in the country, but we also have the opportunity to promote Small Can Be Big and spread the word to WBUR listeners," said Connors. "The WBUR audience is smart, compassionate and engaged. We want them to know they can make a big difference to a low-income family in urgent need…even with just a small donation."
About Small Can Be Big: SmallCanBeBig.org was established by Boathouse Group, Inc. to address a developing homeless crisis in Massachusetts. In the summer of 2008—a time of year when homelessness is usually in decline—the number of homeless across the state reached an all-time high. When confronting systemic issues like homelessness, philanthropic organizations often fail to consider critical, limited resources such as time and talent. Boathouse—already experts at launching campaigns, creating content, and developing strategy and technology for clients—decided to tackle this local surge in homelessness by using the skills and talents already in their own backyard. Together, the team at Boathouse developed SmallCanBeBig.org as a "simple solution to a complex problem." As a model for giving, it provides a better way for people to do what they always do best in a crisis: help one another. By harnessing the power of small, direct donations, SmallCanBeBig.org and donors like you can make a big difference for families living on the edge. In 2013, Small Can Be Big, Inc. was founded to carry on and develop the work begun by Boathouse by housing and maintaining the giving program conducted through SmallCanBeBig.org. Small Can Be Big, Inc. is a charitable nonprofit and has submitted as a 501(c)(3) tax-exempt charity.
About 90.9 WBUR, Boston's NPR News Station: Founded in 1950, WBUR began broadcasting NPR programming in 1970, offering NPR's Morning Edition and All Things Considered along with local news programming. One of the nation's most successful public radio stations today, WBUR produces national NPR programs On Point, Here & Now, Only A Game and Car Talk, as well as a local daily newsmagazine, Radio Boston. Located on Commonwealth Avenue at Boston University, WBUR has the largest radio newsroom in New England, dedicated to covering topics that matter in Boston and across the nation. The work produced at WBUR can be heard on 90.9 WBUR, Boston; 89.1 WBUH, Brewster, Cape Cod; and 92.7 WBUA, Martha's Vineyard; online at http://www.wbur.org, or by following WBUR on Facebook and Twitter, @WBUR.