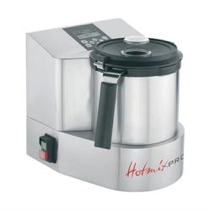 Greensboro, North Carolina (PRWEB) November 05, 2015
HotmixPro, the award-winning multifunctional food processor and cooking tool is now available in the US in 110V.
Imagine being able to create over 168 recipes using automated processing with one simple, easy-to-use machine. The HotmixPro guides through each recipe step-by- step as it cuts, mixes and heats all in the same machine.
Benefits of the Hotmix:

Time savings – Let the Hotmix do the work – process unique creations without the need for constant attention.
Versatile – create a wide range of products from sauces and creams to risotto, doughs, emulsions, desserts, drinks and more
Efficient – all ingredients can be put into the same bowl with control over temperature, speed and continuous mixing. The professional-grade motor rated 1500W provides more heating power to transform your creations quickly.
Precise temperature control - heat degree by degree to 190C which allows the machine to be used for specialized recipes including caramelizing sugar.
Agitation/speed control – agitation up to 12,500 RPM with 23 different speeds.
Consistent Quality & Easy to Use – using pre-programmed recipes allow for quality control with each production. Standardized recipes and concise digital instructions enables any member of the kitchen to operate affectively.
Customizable & Portable – create your own recipes and add them to the machine using your computer. The Hotmix fits into any kitchen and is light enough to take anywhere.
Structure and Safety – stainless steel construction and thermally insulated to ensure operator safety.
About Advanced Gourmet
Advanced Gourmet was founded and is led by three foodservice equipment industry innovators, Jim Hall, Jim Marmion and Wally Becker with a primary goal of providing the most advanced equipment solutions and services for the professional kitchen and specialized applications throughout the United States. Advanced Gourmet is the exclusive importer and distributor for Hotmix, Pacojet, Techfrost, Cattabriga and Ciam within the USA.
This founding team served in executive and managerial positions with well-known manufacturers of equipment designed for the food service industry and the modern kitchen. Their vast experience creates the foundation for their passion to provide expert guidance, high quality products, and superior, high quality support to all their clients.
Serving as the exclusive importer of fine brands like the Hotmix, Advanced Gourmet has built the most prestigious line of specialty kitchen equipment available in the USA.
http://www.AdvancedGourmet.com
About Hotmix.
HotmixPRO produces professional cooking appliances with unmatched and award- winning features. HotmixPro is manufactured with the finest quality construction from their Italian headquarters.
Winner of "Best of Show", "Best New Product" and "Best Light Equipment Innovation".