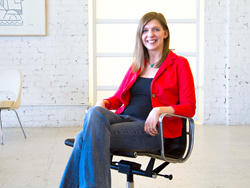 Lauren's long-term thinking has contributed to quicker, easier manufacturing of innovative client solutions.
North Kansas City, Mo (PRWEB) December 23, 2015
Shield Casework's product manager Lauren Lee was named the November Solidworks Women in Engineering honoree this week.
Lee worked at the Dimensional Innovations, the company that developed Shield Casework, for five years before becoming the head of the engineering department at Shield.
Since moving over, she has proven an integral member of the Shield team. Her ability to efficiently carry out tasks and meet deadlines has allowed Shield to continue quickly manufacturing goods for notable clients.
Her long-term thinking has contributed to quicker, easier manufacturing of innovative client solutions. In particular, her work on the University of California—San Diego Jacobs Medical Center headwalls resulted in an award-winning solution that has received recognition from the Industrial Design Society of America (IDSA) as well as the International Design Awards (IDA) competition.
In addition to Lee's design talent, her leadership both inside and outside of the Shield office set her apart to the Solidworks judges. Managing workflow and junior employees in the engineering department at Shield, Lee also empowers Kansas City women to overcome workplace challenges with a Lean In Circle she founded in 2014.
Lee's dedicated work and leadership both at Shield and in the Kansas City engineering community as a whole earned her this esteemed honor. As part of this honor, Lee will be featured in a blog post on the Solidworks corporate website later this November to emphasize her contributions to the engineering community.
ABOUT LAUREN LEE
Detail-oriented, creative and highly organized, Lauren Lee keeps the Shield fabrication and product development processes running as the supervisor of product design and engineering. Not only focused on engineering specifications, she also manages the job flow and schedules for her department, as well as the research and development for the product.
Lauren originally started her career at Dimensional Innovations and moved over to Shield Casework in her current leadership role. She's certified by Underwriters Laboratories, is a Six Sigma Green Belt, and also is an active member of the American Institute of Architect's Kansas City chapter of Women in Design.
She received her degree in industrial design from the University of Kansas. She also brings experience from an internship with Honeywell Aerospace and from teaching product design through Duke University.
ABOUT SHIELD CASEWORK
Merging exceptional design into healing environments, Shield Casework manufactures the leading line of high-end modular solid surface casework, headwalls and custom architectural products.
Shield's philosophy is to create beautiful products that are meticulously crafted, immaculately clean and unmatched in quality. Seamless construction, cleanable radius corners and patented embedded connections make Shield superior to any other casework product.
ABOUT SOLIDWORKS
Focusing on ease of use for designers, engineers and other professionals, Solidworks offers 3D software tools that allow designs to come to life. Their products are easy to learn, quick to use and cost-effective for professionals in any field.
Every month, the company selects a woman in the engineering community who has demonstrated vast achievement in the field through her leadership, innovative accomplishments and contribution to the community. Selected from a worldwide pool of female engineers, the company chooses the recipient of the Women in Engineering nomination in order to recognize the incredible accomplishments women are making in the field every day.
# # #