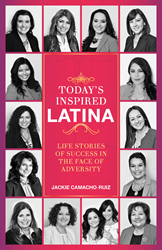 Naperville, Illinois (PRWEB) November 05, 2015
What: Entrepreneur, motivational speaker and seven-time author Jackie Camacho-Ruiz celebrates the positive accomplishments of 26 Latinas in her seventh book, "Today's Inspired Latina: Life Stories of Success in the Face of Adversity" with her Miami Book Launch.
Why: "Today's Inspired Latina" plunges readers into the personal stories of 26 inspiring and successful Latina businesswomen who overcame language barriers, cultural and educational obstacles as well as their own self-limiting beliefs to rise to positions of authority in their respective industries. It's a positive, empowering read for anyone sitting on a dream and thinking it can't come true. The book is available on Amazon.com in print and electronic formats.
Where:
The Deauville Beach Resort
6701 Collins Avenue
Miami Beach, FL 33141
When:
6:30 p.m. to 9:00 p.m.
Thursday, Nov. 19
There will be author presentations, book signing and networking.
How: The cost is $25 per person. Part of the ticket proceeds will benefit The Fig Factor Foundation, a 501 (c) 3 that helps unleash the amazing in young Latina women. To register, visit http://todayslatina.com/.
About Jacqueline Camacho-Ruiz:
Jackie is an award-winning entrepreneur, national speaker, philanthropist, author and president of JJR Marketing and Fig Factor Media LLC. She is a regular guest on local and national media, where she freely shares her own success story, including her two-time survival of cancer, to motivate others. She founded The Fig Factor Foundation focused on unleashing the amazing in young Latinas. For more information about Jackie, visit: http://www.jackiecamacho.com and http://www.thefigfactor.org.