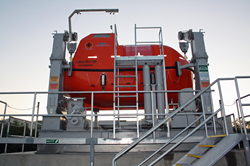 This critical training exercise will afford students the skills necessary to keep calm under pressure and follow proper safety protocol if ever faced with a life-threatening situation.
FORT LAUDERDALE, FLA. (PRWEB) November 13, 2015
Maritime Professional Training (MPT)—the largest private maritime training school in the nation—announced its recent completion and opening of a small boat deployment research, demonstration and training center in partnership with Dania Beach-based Nautical Ventures Group. MPT invested $500,000 to develop the new facility as part of their $5 million expansion project currently underway at its Fort Lauderdale-based campus in an effort to train more people in the commercial maritime and yachting industries.
MPT acquired the space as part of a long term lease agreement with Nautical Ventures to conduct the hands-on portion of the course, designed to provide a research and demonstration facility for mariners on how to safely launch survival craft and small boats such as tenders from ships or large yachts. In addition, various manufacturers will be able to assess new hook designs, survival craft, and maintenance protocols. The new facility will be used in conjunction with classes and simulation exercises held at MPT's 61,000 sq. ft. main campus in Fort Lauderdale.
"We are excited that construction of the new training center is now complete," said Captain Ted Morley, COO and director of training, MPT. "The facility's waterside davit and crane mechanism allows captains and their crew to work through scenarios on how to launch a life boat or rescue boat in real time. This critical training exercise will afford students the skills necessary to keep calm under pressure and follow proper safety protocol if ever faced with a life-threatening situation."
According to Nautical Ventures CEO, Roger Moore, "We are grateful for MPT's support and investment to the property and training center. Our commitment to the marine industry will be further augmented by aligning ourselves with these training professionals. Nautical Ventures anticipates expanding our services to include boating courses for new boaters that are entering the market. Together we serve to train and enhance the safety of our marine community."
Founded in 1983, Maritime Professional Training (MPT) is the largest private maritime training school in the United States and serves more than 10,000 students per year, providing training for mariners pursuing careers in both the commercial and yachting segments of the maritime industry. MPT is located in Fort Lauderdale, Florida, five minutes from Port Everglades, the Fort Lauderdale International Airport, and in the heart of the Superyacht Community. MPT is the most complete full-service private maritime school in the country. Under the direction of the Morley family for two generations, MPT has trained thousands of commercial mariners, yachting professionals, and enthusiasts for more than three decades. This in depth experience has enabled MPT to develop programs that are success-oriented, with unbeatable pass rates, as well as being cost and time efficient.
MPT offers all levels of certification, license and document study programs, many of which offer in-school testing, are USCG MCA and Nautical Institute Approved and are recognized by many foreign administrations. Training programs are designed to meet and exceed IMO standards and are fully STCW Compliant. MPT's Fort Lauderdale-based campus hosts over 45,000 square feet of classrooms, deck engineering department and dynamic positioning training labs, and is currently undergoing a 25,000-square-foot facility expansion that will effectively double the size of the school's simulation department, and will include the addition of more classrooms and maritime training resources and technology. The expansion will bring its total training space to 61,000 square feet, and is anticipated to be open and fully-functioning in the fall of 2015. MPT's main campus and offices are located at 1915 South Andrews Avenue in Fort Lauderdale, FL. For more information, call 954.525.1014 or visit http://www.MPTusa.com. Maritime Professional Training—one school, unlimited possibilities.
Nautical Ventures Group is a consortium of South Florida investors who are passionate about boating and the local marine community. Their goal is to be a single-source supplier for boat/motor/watersport sales, accessories, service and support to the broad South Florida marine marketplace. Operating under the banners of Nautical Ventures Marine Superstore, QPS Marine, and LukFuel they have infused over $9 million dollars into capital improvements and created close to 50 jobs over the past 12 months. Sales are projected to exceed $25 million by the end of 2015. For more information, call 954.926.5250 or visit http://www.nauticalventures.com.