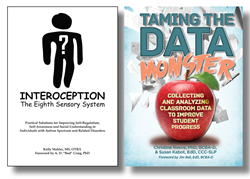 Progress is impossible without change, and those that cannot change their minds cannot change anything. -- George Bernard Shaw
Lenexa, KS (PRWEB) November 13, 2015
AAPC Publishing announces the release of two books designed to help professionals gain insight into new ways to gather information for evaluating individuals with autism spectrum disorder (ASD).
"Taming the Data Monster: Collecting and Analyzing Classroom Data to Improve Student Progress" by Susan Kabot, EdD, CCC-SLP, and Christine E. Reeve, PhD, BCBA-D addresses the challenge of making data meaningful and demonstrative. Filled with evidence-based tools for collecting and applying data to demonstrate student progress, this book takes the mystery out of data collections. The authors will be signing their new book at OCALICON Conference in Columbus, OH, on November 19.
"This book provides so many examples and realistic ways to both take and interpret data that the task becomes more doable," said Brie Holtrop, a high school special educator.
"Interoception: The Eighth Sensory System" by Kelly Mahler, MS, OTR/L, describes the clear link between the awareness of one's body and many important skills such as self-awareness, self-regulation, problem solving and intuition. Providing an overview of research on interoception, the book describes three new assessment tools to evaluate the interoception experience of individuals with autism and practical strategies for improving this sensory system.
"[Interoception] was a missing piece that people should have been discussing in the field of ASD," said Kerry Mataya, author of "Successful Problem-Solving for High-Functioning Students With Autism Spectrum Disorders. "The research that has gone into this book is superb, and it is a must-read for any professional, parent, or service provider that is seeking to provide better services for an individual with ASD."
Kelly Mahler, author of Interoception, will be signing her new book at OCALICON Conference in Columbus, OH, on November 18.
Both books are available now through the AAPC website.
About AAPC: Established in 1999, AAPC Publishing specializes in providing mainstream, hands-on knowledge to individuals, families, educators and other professionals regarding topics related to autism spectrum disorders. We are a proud provider of quality resources that offer evidence-based solutions at affordable prices.
Follow us on: Facebook