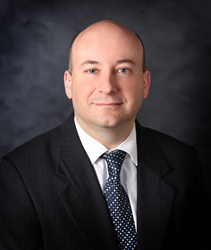 "Sharing ideas and knowledge with peers is what keeps our attorneys evolving." -William K. Mattar
Buffalo, New York (PRWEB) November 04, 2015
Scott Bylewski, Esq. of William Mattar, PC was a guest speaker for the Bar Association of Erie County's ADR committee meeting on Monday October 26th, 2015. The topic of discussion was the "SuperBetter" game, which concepts are available in book form and in an increasingly popular app for smartphones. According to the website, "SuperBetter increases resilience- the ability to stay strong, motivated and optimistic even in the face of difficult obstacles." Bylewski explains the firm's use for this to "help improve our grit and optimism."
SuperBetter is a free app that gives daily tasks and challenges to keep an individual focused on their personal growth. The program gives daily ideas, or tasks, to overcome obstacles, whether they are small or large.
The Bar Association of Erie County has more than 3,700 members with a law based background. The involvement of the members through meetings, programs and other services helps to build a network of education and continued growth.
Born in Buffalo, New York, Bylewski earned his Juris Doctor from SUNY Buffalo Law School in 1998. While studying law, he received the New York State Bar Association's Law Student Bar Association Achievement Award. As an active member of the Bar Association of Erie County, Scott serves on the speakers' bureau, ADR, attorney/client relations, commercial and bankruptcy law, and municipal law committees.
About William Mattar, PC
William Mattar was established in 1990. The firm is intent on representing those injured in car accidents across New York State, with offices in the Buffalo, Rochester, Syracuse, Binghamton, New York City, Long Island and Albany regions. The firm is well-known for its slogan, "Hurt in a Car, Call William Mattar" and catchy phone number, 444-4444. To learn more about the firm visit http://www.WilliamMattar.com.