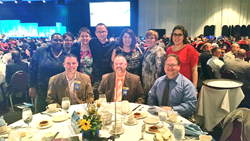 We are extremely grateful for this honor and excited for the opportunity to recognize all the people that made this award possible.
(PRWEB) November 05, 2015
The Rochester Business Alliance and KPMG LLP presented CaterTrax with a 2015 Rochester Top 100 Award, recognizing the software as a service company amongst the fastest growing privately owned companies in the Greater Rochester region. CaterTrax is a national leader in the catering management software industry and was ranked 84th on the list.
CaterTrax is located in the heart of downtown Rochester and has a growing staff of 80 people. Over the past 10 years the company has leveraged their experience in the hospitality industry to form true partnerships with their clients across the United States and Canada. CaterTrax's ability to support over 12,000 administrators currently using their system and achieve double digit growth annually can be attributed to their emphasis on service.
"We've built our business on the cornerstone of hospitality and we've spent the past 10 years cultivating a team that shares the value of putting service first. Staying true to our vision and mission drives the superior support that has helped us become industry leaders. Our hardworking team is focused on demonstrating hospitality and that's had a big impact on our ability to grow. This award signifies our success in redefining expectations for a SaaS company with our service as a software approach," said co-founder and CSO, Dan Welch.
The RBA 100 award comes on the heels of the 2015 Democrat and Chronicle's employee voted Top Workplaces award CaterTrax received in April. Co-founders Rich Rund and Dan Welch agree that, similar to Top Workplaces, the Rochester Top 100 Award is a reflection of the dedicated team at CaterTrax and the return on their inside out investment in hospitality.
"Every employee we bring on board melds with our culture and drives our success and that's something our clients and partners pick up on. We are extremely grateful for this honor and excited for the opportunity to recognize all the people that made this award possible. The Top 100 Award really honors the years of hard work keeping our vision and mission a top priority," said Co-Founder and CEO, Rich Rund of the honor.
About RBA Top 100 Awards Program
The Rochester Top 100 Awards Program was created to honor the strong entrepreneurial spirit reputable of the Rochester community. Since 2012, Rochester Business Alliance has been dedicated to recognizing viable companies in the Greater Rochester Region. To be eligible, companies must be privately held, headquartered in the nine-county Rochester region, and have earned at least $1 million in revenue consecutively for the three most recent fiscal years. For more information about the Rochester Top 100 Awards and Rochester Business Alliance, please visit this page.
About CaterTrax
CaterTrax is the industry leading online solution developed by hospitality professionals proven to promote, grow, manage, and sustain profitable foodservice businesses. The co-founders of CaterTrax started out with a family-owned catering business where they developed efficient processes for managing large-scale food service operations. These processes became the core of our web-based solutions platform. CaterTrax was created by passionate professionals who understand the realities of managing high volume food and hospitality businesses. For More Information visit catertrax.com.