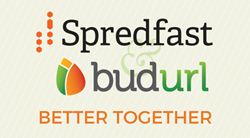 "With this latest partnership, our customers are now able to leverage the link management solutions that BudURL offers, directly within the Spredfast platform they rely on everyday." Joe Curry, Business Development Manager for Spredfast
Austin, TX (PRWEB) November 05, 2015
BudURL, the leading technology provider of link management solutions, announces the launch of an integration partnership with Spredfast.
While both companies are home-grown and headquartered in Austin, their cutting-edge SaaS products power business across the globe, including Big 4 financial institutions, international retail brands, and global media companies.
Spredfast customers may harness serious link management from the BudURL platform within their smart social campaigns. In addition to branded short URLs at their fingertips, BudURL offers higher data security, flexible plan options and more advanced features than the default short URL provider previously available within Spredfast.
"Building an integration for Spredfast customers was a no-brainer for our team," said Andy Meadows, BudURL founder & CEO. "Their smart social technology and unparalleled insights into trend detection and content curation are helping some of the world's best brands make waves with their digital strategy. Adding smart branded URL management from BudURL into the mix completes the package to take their efforts to the next level."
A link management platform puts the power of the link into a marketing team's hands, seamlessly performing tasks that used to require resource-intensive development team time. Flexibility is a key component that separates true link management from simple link shortening - links may be edited and re-routed as often as needed, even dynamically, so short URLs can perform as agile as today's digital marketing campaigns.
"Our powerful, open platform allows us to connect best-of-breed technologies for each of our customer's unique needs. As we grow this ecosystem, we continue to look for new partners that align with our promise of smart social and BudURL is an obvious fit. " said Joe Curry, Business Development Manager. "With this latest partnership, our customers are now able to leverage the link management solutions that BudURL offers, directly within the Spredfast platform they rely on everyday."
As indicated on Spredfast's partnership page, the company believes in an open, integrated approach to providing customers with best-of-breed marketing solutions, and by partnering with an open, flexible platform like BudURL, everybody wins.
###
About BudURL
BudURL is the leading provider of enterprise link management solutions that help brands, marketing professionals, and agencies drive decision-making by streamlining the collection and connection of consumer interactions. Offering one-of-a-kind features like content routing by device, secure click stats, and flexible short URLs, BudURL's platform goes way beyond simple link shortening to deliver the most secure, customizable and agile solutions for professionals. For more information, visit http://www.budurl.co.
About Spredfast
Spredfast is transforming the way companies connect with consumers. Spredfast's Smart Social Software enables companies to build lasting relationships with today's digitally connected consumer. Brand and media companies use the Spredfast Social Software Platform to manage, integrate and amplify social content across any digital touch point in real time. With global reach, Spredfast customers manage over one billion social connections across 84 countries. Over 1400 customers, including all five major broadcast networks and over fifty percent of Interbrand's 2014 World's Best Brands have partnered with Spredfast to create first-class social experiences. For more information, visit http://www.spredfast.com.