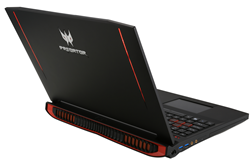 San Jose, Calif. (PRWEB) November 04, 2015
Acer today invites gaming enthusiasts to enter for a chance to win one of three stunning Predator gaming products in an exciting giveaway opportunity. Gamers can enter through Nov. 22, 2015 for a chance to win a Predator 15 notebook, Predator G6 desktop or Predator 8 tablet, with new prizes awarded each week. An extra winner in week three will receive a surprise grand prize that is sure to wow any gamer.
These products represent the ultimate in gaming hardware with outstanding performance to give gamers the edge over the competition. The first week's prizes include the Predator 15 G9-591-70XR notebook, Predator G6 AG6-710-70001 desktop and Predator GT 8 810-15NC tablet. The prizes for weeks two and three will increase in total value and will be announced on the Predator Giveaway site.
The Predator 15 notebook was designed for those with a need for speed. It combines powerful 6th Gen Intel® Core® processors with high-performance NVIDIA® GeForce® graphics, fast DDR4 memory, PCIe solid state drives, advanced cooling and stellar audio capabilities. Sporting red accents and a black chassis with geometric lines and soft texture coating for extra grip, the Predator 15 notebook is ready to tackle any challenge. The Predator 15 G9-591-70XR is valued at $1,999 (1).
A formidable gaming beast, the Predator G6 desktop features "one-punch" CPU overclocking capabilities combined with IceTunnel cooling to keep it cool at excess speeds. It is powered by the latest 6th Gen Intel Core i7 processor and NVIDIA GeForce GTX970 graphics, and provides support for a UHD 4K2K (2480x2160) display. It features a front-facing Acer Easy-Swap expansion bay for up to 12TB of storage. It also provides immersive sound with a Creative Sound Blaster™ X-Fi MB5 and Environmental Audio Extensions (EAX®) 5.0 and 5.1 channel audio support package. The Predator G6 AG6-710-70001 is valued at $1,499 (1).
The Predator 8 tablet brings games to life with Predator Quadio, a combination of four front-facing speakers and virtual surround sound along with Predator TacSense for tactile feedback. It delivers exceptionally realistic visuals on the 8-inch FHD display (1920 x 1200) featuring Predator ColorBlast technology. Immersive and graphically rich gaming is powered by the newest Intel® Atom™ x7 processor, Android 5.1, and 2x2 MIMO wireless technology for blazing-fast Internet connections. The Predator 8 GT-810-15NC is valued at $299.99 (1).
To enter for a chance to win, gamers may visit Acer's Predator Gaming Giveaway site. They are welcome to enter for a chance to win through Nov. 22, 2015. Gamers are encouraged to share the giveaway opportunity with friends with the hashtag #PredatorGiveaway.
About Acer
Established in 1976, Acer is a hardware + software + services company dedicated to the research, design, marketing, sale, and support of innovative products that enhance people's lives. Acer's product offerings include PCs, displays, projectors, servers, tablets, smartphones, and wearables. The company is also developing cloud solutions to bring together the Internet of Things. Acer employs 7,000 people and ranks No. 4 for total PCs globally (IDC 2014). Revenues for 2014 reached US$10.39 billion. Please visit http://www.acer.com for more information.
© 2015 Acer America Corp. All rights reserved. Acer and the Acer logo are registered trademarks of Acer Inc. Other trademarks, registered trademarks, and/or service marks, indicated or otherwise, are the property of their respective owners.
1. Prices listed are manufacturer's suggested retail prices.