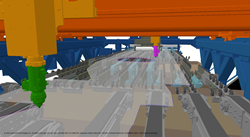 Napoleon, Ohio (PRWEB) November 09, 2015
LaserCoil Technologies LLC has announced enhanced capabilities with the launch of its multiple-head, coil-fed laser cutting system, which allows a shared balancing of the cutting workload to decrease processing time and improve productivity. The laser blanking systems are flexible with the ability to handle shapes from complex body side outers to simple chevron and scroll cuts, making it perfect for niche type part production appropriate for automotive, aerospace, agriculture, appliance or contract fabricators.
The multiple-head LaserCoil machines, patented since 2010 and now available to customers, can improve production rates by an average of 85 percent as compared to a single head system. These higher throughput rates make laser cutting of blanks a viable option as compared to mechanical stamping, eliminating the need for dies and achieving greater flexibility and quicker changeover.
LaserCoil systems can process a wide variety of coil material in aluminum, mild steel, the new high-strength steels, and other materials for surface sensitive panels as well as structural components in thicknesses from 0.5 to 3.5mm and up to 2.1 m wide coil at any length. There is no need for traditional press dies, so changeover is as simple as entering a new part number and the systems are supplied with nesting and cutting software that optimizes material use.
Contributing to the system's speed is a series of dynamic profile conveyors that support the coil strip while providing a cutting path for the laser heads. These lanes independently and dynamically reposition to maintain a clear path below the moving laser head. This allows the coil to move forward through the system — without jogging the strip back and forth — while also automatically shedding scrap during the cutting process, delivering a burr-free, ready-to-stack part at the end of the line.
Whereas other coil-fed laser cutting systems require special coil feed and/or special stacking solutions, LaserCoil systems work with traditional feed and stacking equipment and can even be retrofit to existing press feeding lines, whether it uses side- or end-of-line stacking. When compared to traditional stamping presses, the LaserCoil system requires less infrastructure investment and can cost significantly less than a large blanking press.
Benefits of the LaserCoil cutting cells include the ability to:

Cut all varieties of metals…even pre-finished or painted coils
Eliminate premature dulling of dies when cutting the new high-strength steels
Eliminate presses, dies and associated maintenance
Provide unmatched nesting capability to enable far more complex shapes
Achieve near-zero dross, no heat-affect zone and improve edge quality and formability
Reduce part changeover time (<10 seconds part changeover)
Produce near-immediate 'idea to net shape' material costs savings
Deliver stack-ready components
Lower capital investment (significantly less than the cost of press blanking solution)
Use far less floorspace
Retrofit to existing press line equipment
Create an edge ready for laser welding (no reshearing)
For more information on this approach to laser cutting of coil strip, LaserCoil equipment or processing of components at the LaserCoil facility, visit http://www.lasercoil.com
LaserCoil Technologies LLC provides metal fabricating systems and solutions featuring advanced and patented technologies for laser cutting of blanks, based on over half a decade of research and successful production runs since 2011. The technology originated out of Automatic Feed Company, a known innovator in pressroom automation with nearly 65-years manufacturing expertise focused on blanking and cut-to-length lines. This depth of experience provides LaserCoil the right qualifications to deliver effective and unique press feeding technology to the market.