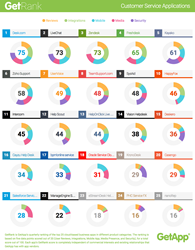 (PRWEB) November 06, 2015
GetApp has released its Q3 GetRank of the top 25 cloud-based customer service applications. Desk.com took the top spot, followed by LiveChat and Zendesk in 2nd and 3rd place.
GetRank is an independent ranking system that scores business software based on five different data points, collected through GetApp and third-party sources. Ranking factors include user reviews, mobile support, security, social media presence, and software integrations. GetRank is updated each quarter, refreshing each vendor's score based on newly available information. See our video about it here.
The objective of GetRank is to help small and mid-sized companies make the right software choices for their business. Customer service is one of 19 different categories to which the ranking is applied.
Customer service tools are used to manage the level of customer support provided before, during, and after a purchase or service is provided to a customer. Cloud-based customer service apps help to measure performance and identify ways in which the level of customer service can be improved. Self-service is another key trend among customer service applications. By providing customers with self-service portals packed with resources such as FAQs, guides, video tutorials, forums and other documentation, busy customers looking for a quick answer can help themselves before lining up to talk to an agent.
"A lot of businesses are really uncomfortable moving into the space of less traditional channels, but it's not their choice – it's the customer's... There's a lot of information available to customers in the cloud, and giving them access to that information will make an employee's job easier and a customer's experience better," says Shep Hyken, Customer Service and Experience Exper and one of three contributors to GetRank's accompanying customer service software report, Achieving Customer Success in the Cloud: Key Trends for 2015.
More about GetApp: GetApp, a Gartner company, is the leading premium business app discovery platform on the web. Headquartered in Barcelona (Spain), GetApp serves as a platform for user-generated and editorial reviews of software and apps for businesses.