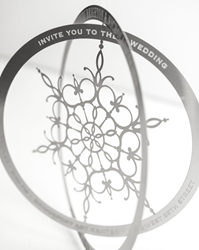 Our sculpted metal holiday cards enable recipients to engage with the sender like never before. Instead of tossing a paper card into a pile with other cards, recipients will display their sculpted metal card year after year.
Cleveland, Ohio (PRWEB) November 05, 2015
Imagine giving a holiday card that clients and employees will display year after year, recollecting the thoughtfulness with which it was sent…a card that won't be tossed in a pile with a myriad of other holiday cards, discarded at the end of the season…a card that will be distinct from the rest and will remain memorable. Invite Design is giving new life to holiday cards with trend-setting, eco-friendly metal designs that give holiday cards purpose year after year.
The owner of Invite Design, Nicole Wilson, has released two new sculpted metal cards just in time for the holidays. Each distinctive greeting card in this ground-breaking, patent-pending line is customized with your logo or text, mails flat, and possesses a sculpt-able element which converts the card into something more. With just a few folds or bends in the metal, your clients and employees can transform the unique card into a gorgeous sculpture, ornament or candle holder – functional as a holiday decoration. Easy to follow videos on the Invite Design (link to http://www.invite-design.com/create) website give recipients step-by-step instructions for sculpting the card.
In addition to the unique metal they are comprised of, there are several factors that differentiate these holiday cards from a typical paper card.
CONNECTION & ENGAGEMENT – Metal Holiday Cards cause recipients to form a connection with your company, strengthening relationships. The process of transforming the card into a sculpture is impactful – it encourages recipients to be creative, turning everyone into an artist, if only for a moment. Because of this interaction, the recipient thinks about the sender for a longer period of time than they would with a paper card.
ECO-FRIENDLY – Invite Design is changing expectations about what it means to offer an environmentally friendly card. It's not just about materials – it's also about longevity and serving multiple purposes. And about considering every aspect of how a product is made. When Invite Design says "eco-friendly holiday greeting cards" it means…

The cards have continued use in recipients' homes after the holiday is over as a sculpture, ornament, candleholder, and more.
The holiday card can double as a corporate gift, eliminating additional cost and waste associated with sending both.
The carbon footprint is reduced by designing and manufacturing the holiday cards in the USA.
All metal holiday cards are 100% recyclable.
PURPOSEFUL DESIGN – Invite Design focuses on trend-forward, exquisite graphic design. Always. Wilson believes that every product in her collections must the exhibit gorgeous design that Invite Design has become known for. In addition, these holiday cards exhibit purposeful product design, meaning significant effort has been put into the function the cards will have post-holidays.
In addition to sculpted metal holiday cards, Invite Design also offers three equally stunning, eco-friendly invitation lines featuring metal and wood: sculpted metal invitations, laser cut wood invitations, and imprinted wood invitations. All Invite Design products are 100% designed and manufactured in the USA. Wording can be customized to suit weddings, parties or corporate events. All metal invitations and cards are 100% recyclable. All wood invitations are 100% compostable.
ABOUT INVITE DESIGN – Invite Design was started in 2004 by owner and graphic designer, Nicole Wilson. Invite Design is located in Cleveland, Ohio. In the last decade, Invite Design has been featured in The Cleveland Plain Dealer and Crain's Cleveland Business for its trend-forward design and eco-friendly products.