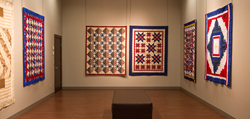 We are so thrilled to showcase these amazing quilts from quilters who volunteer their time every month to honor our veterans in such a special way.
Omaha, NE (PRWEB) November 05, 2015
AccuQuilt is showcasing eight quilts from the Quilts of Valor Foundation (Omaha chapter) in the AccuQuilt Gallery. Volunteer quilters get together to make quilts for veterans during sew-ins every first Wednesday of the month. The quilts will be on display through January 27.
The quilts include a striking creation from the Lincoln Quilts of Valor, a signature quilt from the National Quilts of Valor Foundation (which was quilted at AccuQuilt), a quilt made by a mother and daughter duo from Connecticut, a quilt that won first prize in the Quilts of Valor category at the Nebraska State Fair, and a quilt donated from DAR (Daughters of the American Revolution).
The mission of the Quilts of Valor Foundation is to cover all military service members and veterans who have been touched by war with comforting and healing Quilts of Valor. These quilts must meet certain standards like using quality 100% cotton fabric, contain a patriotic theme, be large enough to cover an average-sized adult (ideally a finished size of 60" x 80"), and other standards of excellence.
Quilts of Valor was founded by Catherine Roberts, a retiree from the healthcare field, in 2003 when her oldest son was deployed to Iraq. Roberts had a vision of a post-deployed warrior struggling with his war demons. He was sitting on the side of his bed wrapped in a quilt, which not only comforted him but warded off his war demons. Since that initial vision, a quilting partnership ensued between piecers and quilters and eventually quilts were being awarded to wounded warriors through the Walter Reed National Military Medical Center.
"We are so thrilled to showcase these amazing quilts from quilters who volunteer their time every month to honor our veterans in such a special way," said AccuQuilt Chief Energizing Officer Steve Nabity.
As of August 2014, there have been over 100,000 quilts awarded to service members and veterans. To learn more about this great cause and organization, see qovf.org. You can view the quilts from the Quilts of Valor Foundation at the AccuQuilt Gallery Monday through Friday from 10:00 a.m. – 4:00 p.m. by appointment.
About AccuQuilt—Better Cuts Make Better Quilts
Headquartered in Omaha, Neb., AccuQuilt offers quilters, fabric crafters and retailers a premiere line of fabric cutters, dies, quilting patterns and other quilt and fabric cutting solutions that help quilters quickly and accurately cut shapes for quilting and fabric crafts. AccuQuilt also offers quilters a wide variety of rich educational resources to enhance their quilting experiences. Cutting with AccuQuilt cutters is a natural evolution of fabric cutting methods. "First scissors…then rotary…finally…AccuQuilt" for fast, easy, accurate fabric cutting. For more information, visit accuquilt.com or call 888.258.7913.
###