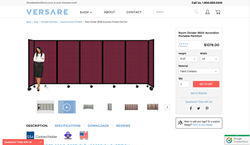 Versare provides an experience so real, you may actually touch your screen to feel the fabric.
Minneapolis, MN (PRWEB) November 10, 2015
Leading manufacturer and retailer of room dividers and portable partitions, Versare Solutions LLC, has unveiled a new website and brand refresh in order to present a more approachable and customizable shopping experience for online visitors. The revamped Versare.com contains a large selection of portable dividers, with hundreds of size, color, and material customization options available for purchase.
Formerly selling products under multiple product-specific sites, such as Portablepartitions.com and Portablebarricadestore.com, Versare.com now offers a complete selection of Versare portable products under one unified site. Shoppers are now able to browse the company's full selection of indoor and outdoor partitions, along with other space-saving products such as portable barricades and mobile coat racks.
Incorporated into the new site's pages is a sidebar with filtering options, allowing users to view only the products that fit within their range of desired features or specifications. Users may now filter according to size, shape, price, hinge style, and panel material to find what suits their situation best. In addition to the new filtering system, Versare has implemented a Portable Partition Selector feature to help new or uncertain visitors narrow down room divider results by choosing answers from a pre-loaded questionnaire.
Also new to Versare.com is an interactive animated room divider feature on relevant product pages. The partition image animates to change height, width, and color in real time as the customer selects product options. A picture of a person standing next to the room divider presents a visualization of how tall or long a product may appear during actual use. "Versare provides an experience so real, you may actually touch your screen to feel the fabric," muses creative director Darren Frayne.
About Versare Solutions, LLC
With clientele ranging from hotels, schools, churches, hospitals, airports, stores, and more, Versare has rapidly expanded its online presence and increased its outreach over the past several years. Offering a large selection of portable room dividers and partitions, such as the Room Divider 360, Versare ships all products directly from its Minneapolis headquarters, with most products being built in-house. Versare's range of partitions has expanded over the years to include office cubicle partitions and work station screens.