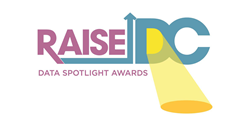 WASHINGTON, D.C. (PRWEB) November 04, 2015
Raise DC, a cross-sector cradle-to-career partnership focused on improving the lives of District youth through educational outcomes, has recognized 10 organizations and local education agencies with a $10,000 award each for their innovative uses of education data to address the challenges D.C. youth face. Data Spotlight Award winners include:

Asian American LEAD (AALEAD)
DC SCORES
DC Prep
DC Promise Neighborhood Initiative (DCPNI)
Higher Achievement
KIPP DC
Reading Partners DC
So Others Might Eat (SOME)
The Literacy Lab
Thurgood Marshall Academy Public Charter High School
Raise DC's Data Spotlight Awards aim to shed new light on the impactful education data work happening in the District. The awards reward the practice of using data in smart, scalable ways and seek to emphasize the value of evidence-based decision-making in education.
"Raise DC is looking at creative ways data can be used to improve educational outcomes," said Laurie Wingate, Raise DC's executive director. "The Data Spotlight awardees have discovered how to use data that not only proves their organizational impact, but also improves the work they are doing for the youth they serve. We hope the awards will encourage better data use throughout the District."
The winning organizations were chosen by a judging panel of 15 education and data experts, including leaders from the Office of the Deputy Mayor of Education, Urban Institute, Deloitte and Data Quality Campaign. The Office of the State Superintendent of Education provided funding for the awards.
Karen Gardner, executive director of Reading Partners DC, said data was a core part of the literacy-focused nonprofit and winning a Data Spotlight Award was validation that the organization's efforts to close the achievement gap by tracking qualitative and quantitative data was the right approach.
"We are honored to be recognized by Raise DC for using data to improve reading outcomes for D.C. youth," Gardner said. "Our data shows that our program and method work, and we're grateful for the opportunity to highlight and share our learnings with the entire community."
For more information on the Data Spotlight Awards, including videos of each of the winners, visit RaiseDC.org/spotlightawards.