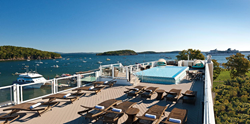 Bar Harbor, ME (PRWEB) November 04, 2015
West Street Hotel in Bar Harbor was named the #1 Hotel in New England by the readers of Condé Nast Traveler magazine (November 2015). The hotel also made the coveted Top 100 Hotels in the World list, coming in at #71 in the world. Additionally, the hotel was named the #8 on the Top 25 Hotels in the U.S. list.
West Street Hotel is Bar Harbor, Maine's premiere boutique hotel, ideally located in the heart of downtown with stunning views of the picturesque Maine harbor, Frenchman's Bay. The hotel also features Maine's only rooftop pool.
"This recognition from readers of Condé Nast Traveler is extremely exciting for the hotel, especially given that we've only been open since 2012," said General Manager Chris Torrey. "We are extremely proud of these accolades and will continue to strive towards excellence in an effort to consistently deliver the best guest experience possible."
More than 128,000 travelers took part in the Condé Nast Traveler 28th annual Readers' Choice Awards survey—the most in its history—submitting millions of ratings and tens of thousands of comments.
About West Street Hotel
West Street Hotel features spacious deluxe guestrooms with modern sophistication and amenities with spectacular views and tranquil nautical-styled décor. Each room features rich dark Lexington furnishings, leather sitting chairs, beautiful artwork, fine textiles and private seating balconies. The guest rooms also feature Venetian mosaic tile accents in the bathroom, in-room refrigerators, iPod docking stations, flat screen HDTVs, and wireless internet access.
West Street Hotel also features Maine's only rooftop pool offering panoramic views of Frenchman's Bay, the outer islands and Acadia National Park. Paddy's Irish Pub & Restaurant features signature dishes inspired by classic Irish-American cuisine, with imported wood from Ireland combined with authentic décor and design. Paddy's also features a private dining room for special events. Guests also have access to the Bar Harbor Club, Maine's most scenic and historic private club, which features a spa, clay tennis courts, pool and Jacuzzi on the water's edge. The West Street Hotel is a member of the Opal Collection.
For more information on the West Street Hotel go to http://www.theweststreethotel.com
About OPAL Collection
The OPAL Collection is an award-winning exclusive ensemble of premier luxury hotels and resorts. Like the beautiful qualities of natural opal gemstones, each destination shines bright with its own colorful and unique experiences. From Bar Harbor, Maine to the southernmost tip of Key West, Florida, OPAL Collection provides the best locations, experiences and tastes for today's travelers; anticipating the amenities and service expected. Whether hiking national parks, golfing along the ocean, or sinking ones toes into Florida's white sand, OPAL Collection hotels and resorts will help guests connect and refresh, and leave them longing to return. Eight OPAL Collection properties were included in Condé Nast Traveler Readers' Choice Awards in 2015.
For more information on the OPAL Collection call 866.258.7247 or http://www.opalcollection.com