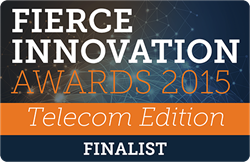 We are delighted to be recognized for our efforts to remove the complexity of governmental compliance requirements for the communications industry.
Bainbridge Island, WA (PRWEB) November 04, 2015
Avalara, Inc., a leading provider of cloud-based software delivering compliance solutions related to sales tax, VAT and other transactional taxes, has been selected as a finalist for the 2015 Fierce Innovation Awards: Telecom Edition, an awards program from the publishers of FierceWireless, FierceTelecom and FierceCable. Avalara AvaTax for Communications was recognized as a finalist in the category of network support, software and service delivery.
Avalara AvaTax for Communications is a comprehensive, SaaS-based solution that accurately calculates complex taxes and fees for traditional telecommunications, wireless, VoIP, internet and other data-centric communications services. By automating tax calculation and proactively tracking the ever-changing rules and rates for over 70,000 jurisdictions, AvaTax for Communications saves time, reduces cost and makes compliance easier and more accurate for communications service providers.
"Avalara is honored to be recognized by FierceTelecom for our innovation and leadership," said Staci Greco, GM at Avalara. "AvaTax for Communications accurately determines and calculates taxes for a broad range of communications services and simplifies tax operations. We are delighted to be recognized for our efforts to remove the complexity of governmental compliance requirements for the communications industry."
Finalists' applications were reviewed by an exclusive panel of executives from major telecommunications companies including: U.S. Cellular, Cablevision, Verizon, TeliaSonera, Comcast, Sprint, and T-Mobile. All applications were evaluated based on technology innovation, financial impact, market validation, compatibility with existing networks, end-user customer experience and overall level of innovation.
To learn more about AvaTax for Communications, visit http://www.avalara.com/products/avatax-communications/ .
About Avalara
Avalara helps businesses of all sizes achieve compliance with sales and excise tax, VAT and other transactional tax requirements by delivering comprehensive, automated, cloud-based solutions that are fast, accurate and easy to use. Avalara's end-to-end suite of solutions is designed to effectively manage complicated and burdensome tax compliance obligations imposed by state, local and other taxing authorities in the United States and internationally.
Avalara offers hundreds of pre-built connectors into leading accounting, ERP, ecommerce and other business applications. The company processes millions of tax transactions for customers and free users every day, files hundreds of thousands of transactional tax returns per year and manages millions of exemption certificates and other compliance-related documents.
A privately held company, Avalara' s venture capital investors include Sageview Capital, Battery Ventures, Warburg Pincus, Technology Crossover Ventures, Arthur Ventures and other institutional and individual investors. Avalara employs more than 1000 people at its headquarters on Bainbridge Island, WA and in offices across the U.S. and in London, England and Pune, India. More information at: http://www.avalara.com.
About FierceMarkets
FierceMarkets, a division of Questex, LLC, is a leader in B2B e-media, providing information and marketing services in the telecommunications, life sciences, healthcare, IT, energy, government, finance, and retail industries through its portfolio of email newsletters, websites, webinars and live events. Every business day, FierceMarkets' wide array of digital publications reaches more than 2 million executives in more than 100 countries.