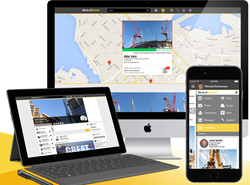 The construction industry has some of the hardest workers. This platform is dedicated to them. - James Faulkner, Founder
VANCOUVER, BC (PRWEB) November 05, 2015
BuildBoom, the online construction network has officially launched its public invitation beta with a general public date of November 25th, 2015. This social platform provides members of the industry a professional space to connect and create communities around projects.
James Faulkner, President of SiteMAX Systems Inc. (parent company of BuildBoom), understands that relationships are everything. He discovered how quickly connections between individuals fade once a project is complete. His partner, Doug Scott of Wales McLelland Construction, has been on the forefront of transparency and accountability with his company throughout this venture.
Millennials are replacing older generations in the industry, with social media being their primary method for communicating and sharing information. To date, they have been constrained to using general social channels that have no particular content focus. Construction professionals are passionate and proud of their work, yet they are lacking a space to share accomplishments amongst their own industry. Posting construction related content onto mainstream social networks is irrelevant to a large percentage of the audience. This realization is what triggered the creation of Buildboom. A virtual place where the construction community can communicate in an environment free from the distractions of unrelated content.
BuildBoom allows its users to connect in many ways. Each member has a public profile that showcases a history of employers, as well as current and past projects. This enables people and companies to have a public record of their project accomplishments. BuildBoom users can also create company pages, pin their projects on a map, list their capabilities and share their favourite brands.
The value for each user is different depending on their role in the industry. General contractors, for example, can post bulletins and safety information that will reach the attention of field workers. Similarly, field workers can post progress images and other related content that their superintendents and project managers can view. By connecting on BuildBoom, users can build and maintain long-lasting relationships with co-workers even after a project is complete.
BuildBoom is here to modernize communication in the construction industry.
For more information please contact:
Anna Sawchuk - Social Media and PR Coordinator
309 - 1110 Hamilton Street
Vancouver, B.C., Canada
V6B 2S2
1-604-652-1822
anna@sitemaxsystems.com
http://www.buildboom.com